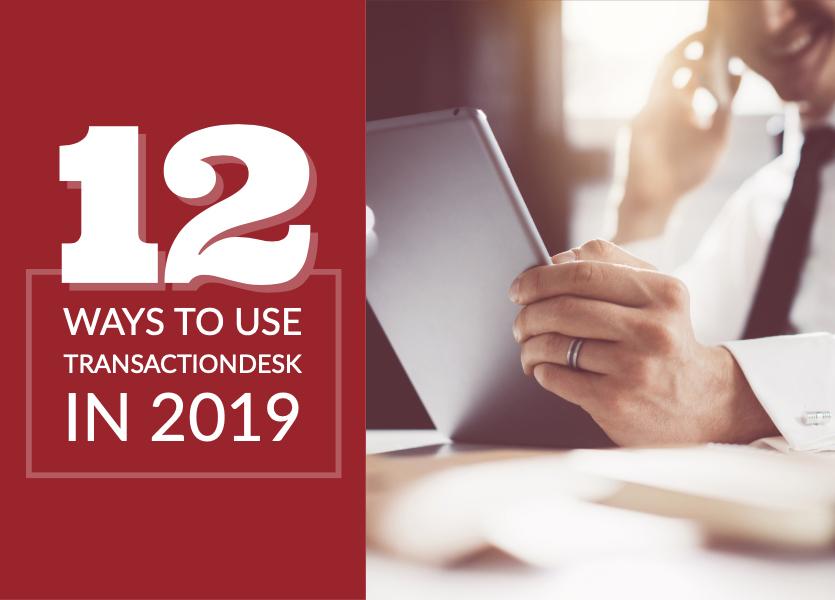 This month, we're looking at effective ways to set your brokerage up for maximum success in 2019. With our 12 days of business in full swing, let's take a look at TransactionDesk—and why it's a smart investment for your real estate brokerage.
So how can you use TransactionDesk in 2019?
Use #1: Attract agents
Attracting new agents is all about building and promoting your brokerage's value proposition. Agents want to know what they're getting if they work with you, and it's up to you to show them.
Offering a comprehensive tool like TransactionDesk is almost expected these days—plus, it helps you prove to agents why they want to work with you. It's a tool that nearly half a million agents in the U.S. alone already use, and are familiar with. When you offer it in your brokerage, they already know the value it provides them—and chances are, they'll appreciate that your whole team uses a tool they love.
Use #2: Simplify your office's transaction work
We firmly believe that there's no real point building a tool that only works for part of your real estate team.
Going paperless shouldn't be a one-sided benefit; it should enable everyone in your brokerage to work more efficiently. That's why we built TransactionDesk the way we did; it lets agents fill out their paperwork wherever, and it lets you and your staff check in on and manage the whole process. No chasing, no hold-ups.
Use #3: Gain visibility into your pipeline
Building off of my previous point, part of the value behind a tool like TransactionDesk is that you have full visibility into the entire process of a transaction. Suddenly, you have a better idea of where each transaction is—and it's much easier to estimate and report on your office's closing pipeline.
Use #4: Improve agent compliance
It's nothing new in the real estate industry; an agent doesn't fill out all the paperwork, sends it in anyway, and now you and your staff get to chase down what's missing and fill in the blanks.
And that's a lot of time that you could be using on more important things.
We built TransactionDesk to help solve this issue. By outlining your requirements ahead of time into an automated list that agents need to follow, you and your staff can quickly spot what's missing. Then, instead of, say, waiting for an agent to come back into the office to finish up the transaction, you can just email it back to them.
Use #5: Clean out those file cabinets
Recently, we talked to Matthew Plummer, Owner and Designated Broker of MVP Realty Group in Olympia, Wash., about how he uses TransactionDesk to reduce his paper clutter.
"I've got file folders in our locked cabinet for transactions, and not one document is sitting in it because we have no need to have a paper version of it," Plummer explained.
In fact, one of the few times his team will have paper versions is when their licensing authority does a periodic audit. And for that, they just print out the required transaction documents for the audit, and recycle it afterward.
Use #6: Standardize your transaction process
Plummer also explained how his team uses TransactionDesk as an operations manual for everyone involved in their transactional process.
"We've designed the task templates so that the hope is, God forbid [our transaction coordinator] decides she's ready to go on to other opportunities, we can sit somebody else down and say look, click here, load it up, there's your track task list, every task in the description has instructions on exactly what you're supposed to do with each task," Plummer explained.
This way, Plummer can ensure that his team consistently processes transactions, and nothing gets missed.
Use #7: Connect your transactions and your back office
Fun fact: TransactionDesk integrates with our back office solution, brokerWOLF.
This means that when you update one, the other will update with that same information—covering the bases for your brokerage in a unique and thorough way.
Use #8: Cut down your transaction times
You know what you don't have to do when your transaction management software handles all your paperwork and integrates with your back office software?
Duplicate data entry.
And when your transaction management software keeps track of what's complete and what's not?
Well, then you can save a lot of time on tedious manual reviews.
Use #9: Integrate with your MLS
Did you know? Several MLSs and associations across the U.S. and Canada use InstanetForms to manage their required forms.
InstanetForms is the built-in forms manager in TransactionDesk—which means that when you use TransactionDesk, it can automatically use the forms specified by those MLSs and associations.
Use #10: Appeal to the largest demographic of home buyers and sellers
Millennials love doing things digitally. And for the last four years, they've been hovering around 34% of the total number of home buyers—making them the largest share in the industry.
This demographic expects a certain level of digital in just about everything they do, and buying or selling a home is no different. Having the technology they want to see is a great way to appeal to them—they can sign for their homes from an email, and don't need to find time in their busy lives to drive all over.
Use #11: Meet legal requirements for documentation
Did you know that the technology for eSignatures was invented in the 1970s?
It's still a new thing for many of us, but it's actually been recognized by law for uses like real estate transactions in the U.S. since 1999. It's considered legally binding, admissible in court, and appropriate for business use.
So what does that mean? When you, your agents, and your clients sign documents electronically in TransactionDesk, those documents are just as legal as their paper equivalents.
Use #12: Improve your whole business
From reducing the time you need to spend reviewing transactions, to functioning as an operations manual, all the way to appealing to an increasingly digital client base—there's a lot TransactionDesk can do for your brokerage in 2019.
Want to see how it works? We'd love to show you. Check out these quick videos, or book your own personalized demo today!