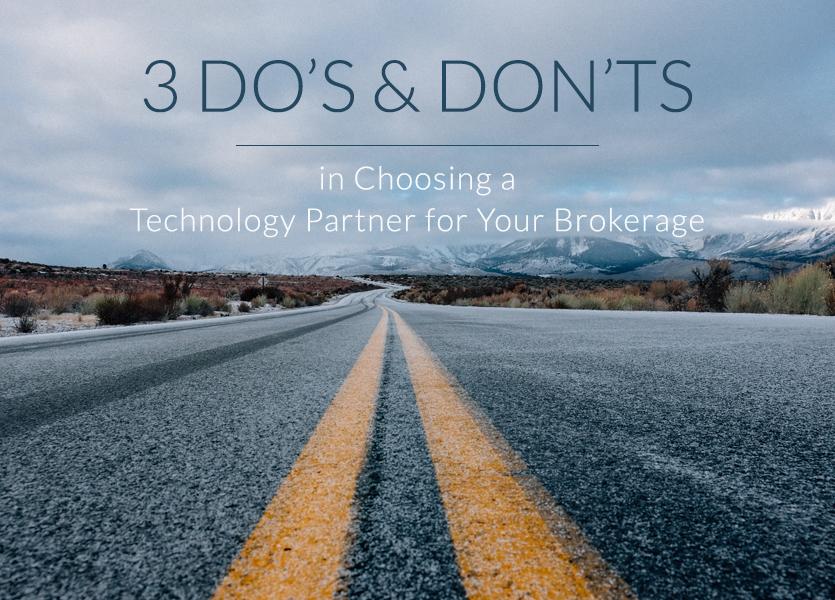 It's not easy choosing the right technology partner for your brokerage. Your brokerage's website, communication, accounting and ability to generate leads all depend on your technology.
So how do you choose a technology partner? Here are 3 do's and don'ts in choosing who to partner with in choosing your technology provider:
Do's
1. Demo!
One of the best ways to see for yourself what a technology partner can offer you is by booking a demo. Demos give you a chance to ask questions and test specific capabilities of a technology to see if that technology is right for you.
2. Keep your Agents and Customers in Mind
You may think your technology is sufficient, but are your customers and agents satisfied with your technology? Your ability to provide a great consumer experience, generate leads and close deals depends on the technology you employ. Talk to your agents and customers to learn more about what technologies they expect and need.
3. Talk to Your National Networks
Ask your successful colleagues about who they've chosen to be their technology partner. Leverage relationships that you have with your franchise or associations you belong to. National trade shows are also a great opportunity to discuss and explore technology options for your brokerage.
Don'ts
1. Choose a Partner that is Invested Elsewhere
Companies will invest their time and resources to build products for the most financially attractive market. Gameboys were made to fit comfortably in a child's hand. Chinese restaurants in New York make food with the American pallet in mind. Mini-vans are built with child-friendly features for families. Tech companies, like all companies, develop products with their main consumers in mind. When choosing a technology partner, make sure real estate is your partner's primary focus.
2. Rely on the Suggestions of Real Estate Consultants
Every middleman has relationships. Although consultants can provide good advice, they may have incentives to recommend partners that may be in their best interest, not yours.
3. Depend on Local Referrals
Seeing what technology providers your competitors use is a good place to start in searching for new technology. However, top brokerages are scattered across North America and may be getting the upper hand with technologies that aren't used locally.
Changing and using new technologies is an investment of both time and money. Explore your different options carefully when choosing your new technology provider. Have any other tips in choosing a technology partner for your brokerage? Let us know in the comment section below!
Ideas from this blog were taken from WhereToLive.com.