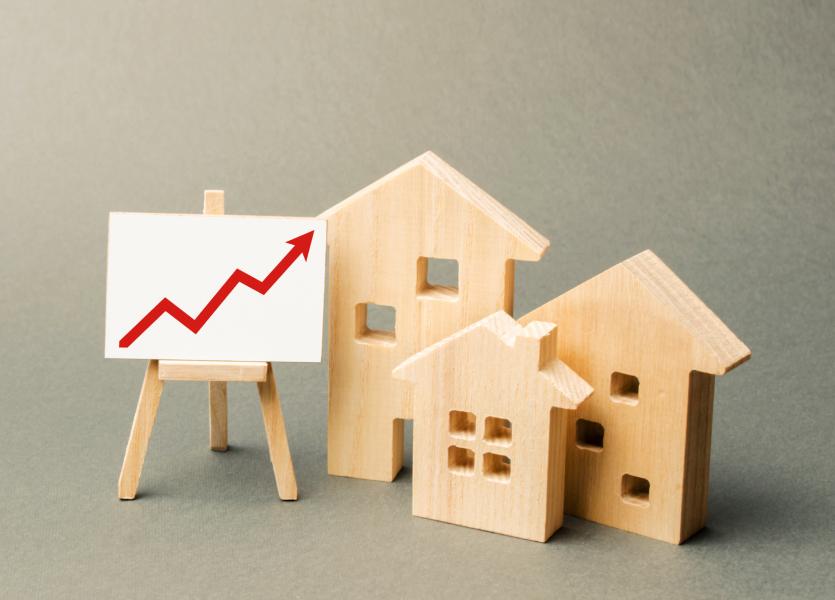 The pandemic has created its share of uncertainty in many parts of our lives, but it has interestingly made certain that the housing market is hotter than ever. Real estate market shifts are ever evolving, and it's not easy to stay on top of it all. As we get ready to look into next year, we're diving into what is trending in real estate along with some marketing, back office and accounting, transaction management, and analytic tools you and your agents can use to stay competitive.
Uptick for commercial space
Residential properties are still flying right off the MLSs. But commercial real estate will gradually begin to recover from the pandemic's impact soon and will pack a big punch in the real estate market.
So why is this? E-commerce has grown astronomically in the last year and a half, so fulfillment center space is in high demand for both big box and smaller retailers. Companies are also looking for smaller office spaces in response to the move to hybrid/remote work. Whether mortgaged or rented, multifamily units are quickly becoming a long-term choice for people of all ages and incomes. The demand to develop new buildings or repurpose old buildings into multifamily spaces will continue to grow. Also, the medical sector has continued to fare well throughout the pandemic, so many medical companies are looking to expand their offerings, including more outpatient and non-acute settings.
Tech-savvy millennial buyers dominate
Millennials still represent a large potential pool of first-time homebuyers ready to enter the market this year. They're ending their leases, moving out, and buying homes in large numbers. According to a recent National Association of Realtors report*, millennials make up the fastest-growing segment of buyers today.
And with the millennial market, comes the natural, high demand for technology in the home buying process. Hopping online or using mobile devices to find, view, and purchase homes is the norm. From engaging in text-based communication with a real estate mobile app like Connectto being able to send over digital forms with eSignature built in—real estate agents must change the way they do their jobs. Plus, agents can also better target potential millennial homebuyers with digital and social media marketing tools like Boost.
The bidding wars continue
Getting multiple offers for a home before it sells is nothing new in a cutthroat real estate market like this. Fierce competition amid an extremely low inventory of homes will continue to fuel these bidding wars and putting home prices to new highs—and selling for way more than their appraised value.
So how can your brokerage keep up with the pace? It's making sure you and your agents win more deals and listings. Deals coming in fast means your agents must navigate listings that have lots of offers and bidding wars. Agents can easily manage offers that come in and keep them all organized in one place with tech solutions like OfferPlace, saving time and stress. With real-time notifications of new offers, agents can notify their clients the moment a new offer comes in, and can easily accept, decline, or counter them all in one place.
Mortgage rates creep up while loan requirements loosen
Many pros agree that it is easier to buy a home today than in recent years—and even since the 2008 recession. First-time home buyers are seeing a lot more zero or low-down payments options available now, meaning they can more easily afford their dream home. Of course, that means there are more viable home buyers in the market for agents to target.
Mortgage rates are expected to increase some in the next several months to the mid-3%s, which will help subdue buyer demand and create less of a chaotic bidding process on that side. However, any rise in interest coupled with already-high home prices could be a hinderance on housing affordability, especially for first-time homebuyers. The good news is mortgage professionals and brokers can help first-time buyers navigate the daunting lending and mortgage process with CRM solutions such as those from LionDesk or Unify by Propertybase.
A big move to suburb living
While urban living is still in, suburban living is taking the real estate market by storm. Buyers are looking for homes in smaller towns surrounding metropolitan areas and are even willing to commute into the metro if a lower suburban home price is on the table. Plus, more people are working from home in this current health and economic climate, and desire more space to sprawl out as work-meets-home life all day, every day.
On the flip side, a result of more people leaving the city for the suburbs could mean that home prices in urban areas may decrease. It's a win-win situation for agents as they target both buyers of urban and suburban properties and for brokerages as they grow their business. Competitive market analysis tools such as BrokerMetrics® from Terradatum offer several tools to analyze various market types and reports that help to avoid overpricing properties—all with the goal of educating agents and their clients.
What does this mean for brokerages and agents?
It's simple. Real estate agents and brokers need tools to be successful while staying on top of the sometimes-tumultuous real estate market. End-to-end real estate solutions that help pave the way through the fog of uncertainty are in high demand for brokerages, agents, home buyers, and sellers.
There's no doubt the industry changes from quarter-to-quarter, or even week-to-week. Technology is here to stay, and there's no better time than the present to invest in smart tech solutions that help generate new lead and nurture relationships, educate agents and buyers through the complex real estate transaction process, and that provide real estate market insights to help agents succeed and brokerages grow.
Learn more about top real estate tools that will help you run a more efficient and compliant brokerage from listing to close … and beyond! Visit www.lwolf.com/products/broker-cloud
* 2021 NAR Home Buyer and Seller Generational Trends