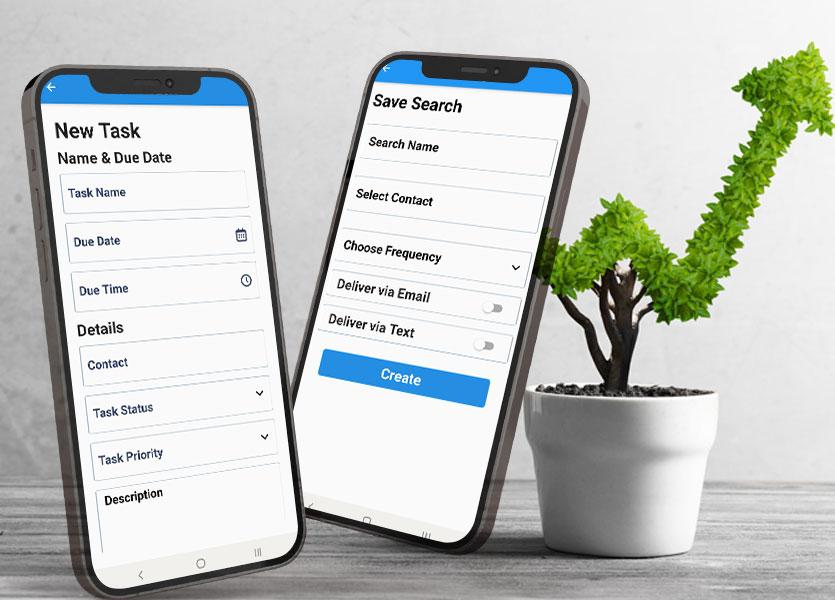 Every single lead matters in this tight-listing market, so having a customer relationship marketing (CRM) tool is vital if you want to stay on top and stand out. But, managing your CRM in the middle of a busy day isn't always the easiest, quickest feat, even though being able to provide every lead a personalized, connected experience is your top priority.
We're thrilled to announce you can do this easier than ever with new enhancements we've made to Propertybase GO—which features a brand-new mobile app, improved lead routing functionalities, and updates to the IDX listing feed to stay compliant with the National Association of REALTORS® (NAR).
NEW! Propertybase GO mobile app
With the all-new Propertybase GO mobile app, agents can work smarter, not harder …from any place at any time. Wherever there's a Wi-Fi or a data connection, agents can manage many aspects of their CRM to-dos. Plus, you can easily conduct routine CRM tasks to manage contacts, messages, perform property searches, share listings with contacts, set appointments, and view your calendar. Talk about convenience!
The app also allows you to get up-to-the-minute updates on important tasks and client communications from the app dashboard since all your leads are on one screen for better connection. With targeted automation and organizational tools at your fingertips, your CRM has never been stronger and simpler to use.
About the in-app experience
View your leads, plus have instant access to brand new leads that you can respond to on-the-go.

Get a birds-eye view of all client communications from the dashboard, including upcoming events and tasks.

Search the MLS for listings and view details so you can expedite marketing paths and attach contacts in the CRM to schedule email subscriptions.

Browse tasks using various filters and create new tasks and events as soon as they pop up.

View recent client communications including emails and texts sent and received so you and your leads can stay better connected in real time.

Improved lead routing changes
Leads come in from many different places and distributing them into the right communication channel takes up a lot of time and guesswork. So now in addition to a variety of other pre-existing criteria, broker users of the Propertybase GO system can set up lead distribution using two new criteria:
Contact Types: Assign buyer leads to one agent and rental leads to a different agent

Contact Sources: Assign all leads from Zillow to a particular agent.
Updates to our IDX listing feed
Recently, the National Association of REALTORS ® updated their policies which now requires listing agent information to be displayed on brokerage websites when pulled from an IDX feed. We have updated our website builder so that listings displayed from an IDX feed include the listing agent name and phone number with the option to also include buyer compensation offer—right on the listing details page. This update ensures that customers using websites stay compliant with the updated policies set in place.