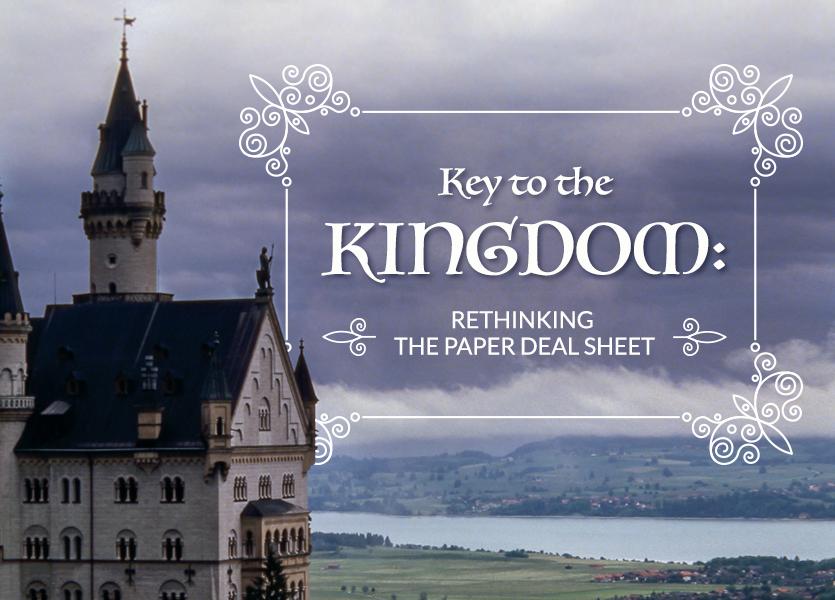 The paper deal sheet goes by many names. Sales sheet. Transaction record. Report of Sale. It's a single piece of paper that agents hand to the office when they submit new business. Whatever it's called, every brokerage has it, needs it… and probably despises it.
This innocent-looking piece of paper can be a headache for most brokerages. Does this sound familiar at all?
Bad handwriting
Missing information
Back and forth with agents
Data entry upon data entry
Despite its many faults, this piece of paper is vital to every brokerage. Without it, the processing and closing of deals would be chaos. From the amount of paperwork being exchanged to the multiple parties involved, inefficiency adds up to cost a brokerage business.
In this way, the deal sheet is like a key to the real estate kingdom. It's necessary for operation.
Why not turn this deal sheet from a source of consternation into something better?
We've taken a new approach to the paper deal sheet—by getting rid of the paper part altogether. When designing this new deal sheet, we asked ourselves: what does the paper deal sheet do well, and where does it fall short? How can we create a better experience for agents and administrators alike? What would be game-changing to the process of submitting and handling deals?
We came up with the electronic deal sheet, EDS. In a nutshell, EDS is:
Paperless (an online process from beginning to end)
Customizable (users can add and rename data fields based on their brokerage's needs)
Consistent (users can make certain fields required for submission/penmanship)
Mobile (agents can use their phones or tablets to fill out the sheet and submit)
And the best part is…EDS saves new deals from agent input directly into our industry-leading accounting and back office management program, brokerWOLF. This greatly reduces the amount of data entry for administrators and also speeds up the process for agents to report deals.
With EDS, agents can get back to revenue-generating activities faster and administrators can focus more of their energy on critical tasks.
The deal sheet is key to the real estate kingdom...Is it time to rethink how it works?
Give us a shout at sales@lwolf.com to learn more about how brokerWOLF and EDS can lighten the load of processing and managing deals. And make sure to check out a quick 4-minute video demo of brokerWOLF here!