Top 5 Reasons Why Getting Real Estate Accounting Software Could Be Your Play of the Week
August 8, 2017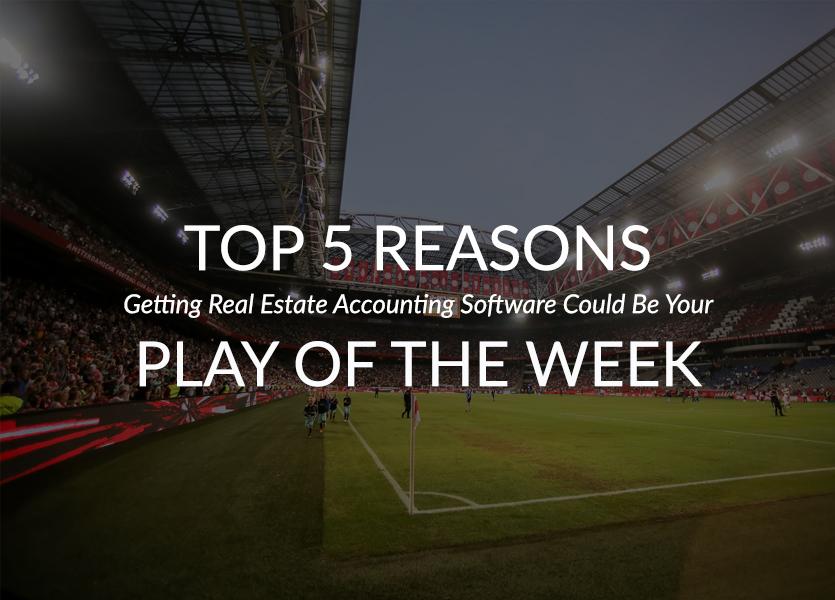 Although real estate and sports teams differ in many ways, your real estate team shares many of the same needs as your favourite professional sports team. Here are 5 benefits to getting a real estate accounting software for your team:

1. Financial System
Accounting software gives your team a financial system. NHL General Manager Jim Rutherford needs to track his team's spending in relation to the NHL's salary cap. Since taking the GM position in 2014, Rutherford has kept his finances in check, continues to have a cap friendly team and has won back-to-back Stanley Cups in 2016 and 2017. Like a Cup contending NHL team, your real estate team needs to understand and track its finances. Accounting software gives your real estate team a financial system that helps keep track of your team's productivity, transactions and deals in the pipeline.
2. Time
Teams have limited administrative resources. You don't want Tom Brady wasting time on inefficient bookkeeping activities. You want him on the field throwing the ball. Real estate accounting software pulls listing data directly from your MLS board, removes the need for multiple entries and automates repetitive tasks so your top players can spend their time on closing deals.
3. Access to Information
No matter who they are or where they are, team members need to have access to information about the team. Without a real estate accounting software that allows transparent, easy access to financial information, your team may fall into distrust and misunderstanding. The 1919 Chicago White Sox were not a transparent organization and were known for withholding financial information from each other. The White Sox owner left his team in the dark about the team's finances and repeatedly failed to deliver on bonuses and salary raises. As a result, 8 players agreed to fix the World Series for a total of $100K without telling their teammates. This led other players to blackmail their betraying teammates. Give your team open access to financial information and promote a culture of transparency and trust by investing into real estate accounting software.
4. Uniformity
Teams are full of different personalities. Differences in one sense are your team's greatest strength as it diversifies the skillset of your team. On the other hand, differences can lead to inconsistency, misunderstanding and ultimately, the failure of your team. Real estate accounting software gives your team a centralized system that standardizes inputs and outputs of information. Real estate accounting software forces your team to record financial information in a standardized way and disseminates this information in consistent mutually understandable reports. France in the 2010 World Cup was a team full of different personalities and talents. However, the team did not buy into a system, leading their training (inputs) and playing (outputs) to fall into disarray. Players were sent home in the middle of the World Cup and banned from French National soccer as the team went on to a winless World Cup where they failed to advance to the knockout stage of the competition. Real estate accounting software gives your team a foundation that gets your team on the same page and allows for common understanding.
5. Organization
Teams need systems that give you a framework and keep you organized. Real estate accounting software forms the backbone of your team. It helps you keep on top of pending deals, agent licenses, commission splitting, Escrow funds, team expenses, partnerships and more. The 2004 Detroit Pistons exemplify what a highly organized team can accomplish. Lacking superstars, the Detroit Pistons faced the star-studded Lakers in the 2004 NBA Finals with bookies marking the odds of a Pistons win at less than 5:1. The well-organized Pistons stuck to a tight defensive system and went on to accomplish the unthinkable, beating the Lakers in 5 games in one of the biggest upsets in professional sports history. Although the brokerage down the street may hold several advantages over you, real estate accounting software can make organization your calling card as you work toward becoming your community's #1 real estate team.
Not all real estate teams use real estate accounting systems. However, the margins between mediocre and great teams are small. A real estate accounting system can be the difference that takes your real estate team to the next level. Lone Wolf has designed accounting software for real estate teams. With brokerWOLF:
• Track expenses, commissions and sales volume
• Automate time-consuming data entry
• Give your entire team access to financial information anytime, anywhere
• Standardize data entry and generate on-demand reports for your team
• Stay organized with real time data that integrates with your other software solutions
Want to learn more about what Lone Wolf has to offer your real estate team? Check us out here!