Real estate professionals, this is your Ultimate Guide to Branding for Real Estate.
Today, all real estate professionals must create their own business identity through their branding. Long gone are the days when we could rely on our company name for our branding.
If you're doubtful about the value of branding, consider large brick and mortar businesses who spend millions on branding each year. For instance, companies like McDonalds and Coca Cola have made an indelible mark on the public consciousness. When you think of McDonalds the golden arches logo immediately comes to mind, as does the signature style of writing on Coca Cola products. That's the ultimate goal of branding: immediate recognition and memorability.
Strong, unique branding is the cornerstone of any successful real estate business. Without strong branding for your business you'll have a hard time getting ahead. It's not difficult to do and it will make you stand out from your competitors in a big way. Just follow these guidelines and use your creativity and eventually you'll have a solid brand that gets attention and sells.
Here are some of the things you can do to build your branding:
---
Unique Selling Proposition
This is where you define your competitive edge. It's really the heart of your business branding and so all your other branding elements should flow from your Unique Selling Proposition. Ask yourself "what makes me different and better than any of my competitors?" The more clearly you define your competitive strengths, the more likely you'll attract the qualified prospects specifically looking for what you offer.
If you don't have a unique selling proposition (and many, many real estate professionals don't) then you're really just a face in the crowd among the many agents in your area. In this case referrals are almost the only way you'll stand out from anyone else. For getting new business referrals should be your gravy, not your bread and butter!
Consider taking your unique selling proposition and condensing it into a slogan you can use throughout your branding.
MUST READ: How to Stand Out When You're Drowning in a Sea of Competition by Gregory Ciotti (@GregoryCiotti).

Website Domain Name
Your domain name should be synonymous with your core business branding, so use it everywhere in your promotional materials. The goal is having your website name easily remembered and top of mind with prospects when they need a real estate professional's services. So have it prominent in the letterhead on your 8.5" x 11" print stationary, sticky notes, note pads, business cards, quotation and invoice templates, and any fliers you send out.
EXAMPLE: Beasley Real Estate uses their brand name with the condensed RE abbreviation for Real Estate, resulting in a domain name that is concise, direct, and easy to type and remember (@BeasleyRE).

Newsletter
You should be using the same template and graphic design elements for all your newsletters, regardless of whether they're published on your website, distributed through email, or delivered in printed format. Be sure to make your business name, logo, domain name, and your slogan prominent in all newsletter pages.
You needn't have a template for all your promotional materials created from scratch. There are many companies nowadays such as Vistaprint who offer thousands of different graphic design templates that can be applied to and customized in a wide variety of sales, marketing and promotional related items for very little cost.
EXAMPLE: The Lone Wolf Paws For Thought Newsletter uses the same template every month, with updated content.
Sign up for the Monthly Newsletter: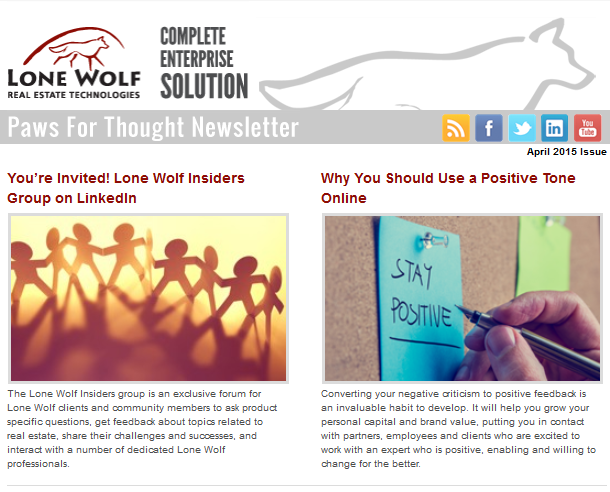 Email Signature
One of the most underutilized areas of advertising real estate is your email signature. Far too many real estate professionals don't even use an email signature for that matter. Yet it's where people often go to find out your contact info, especially if they're not at home and are looking on their Smartphone. Make it easy on them by having your contact info in your email signature that's sent with all emails and have your business slogan in the signature too. Don't forget to also have this in emails sent via your Smartphone! Your email software's help menu should have a step by step guide on creating an email signature.
EXAMPLE: The Lone Wolf employee signature includes employee name, position, company name, phone number, website, a product advertisement and social media links.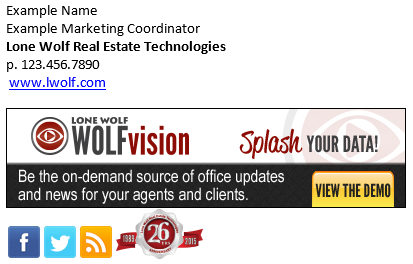 Thank You Page
Your website should be replete with forms for people to sign up for various types of information you can provide them on the local real estate market. Once people submit one of these forms online you should have a Thank You page where you confirm you've received their contact information and thank them for their request. You can put your logo, slogan and domain on these pages too.
Don't clutter any of your pages with lots of banner ads, pay per click ads and marketing material. Keep it plain and simple.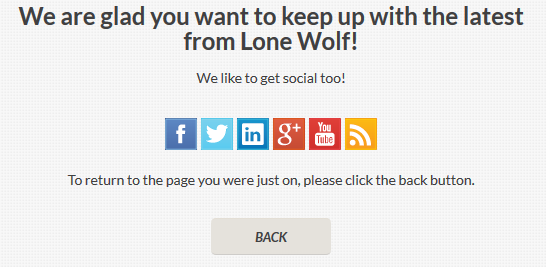 Ebooks
Ebooks can be a great way of expanding upon your knowledge of topics of interest to your website visitors. This is part of your promotional material so use your branding here as you would with any of your other marketing materials.
Also consider offering your ebooks in audio book format. Many people nowadays prefer downloading books in audio format and then listening to them while they're doing other things such as driving, working out at the gym, walking their dog or any other relatively idle time. It's easy to create quality audio files with an inexpensive USB based microphone available wherever computer equipment is sold.
EXAMPLE: Robbie Richards (@RobbieRichMktg) provides an outstanding example of using eBook content to collect emails and offer value to his subscribers. In fact, Robbie could probably act as an example for most of the points on this list, but that would make for a pretty redundant article. The image below is a screenshot of the popup from Robbie's website, where he uses a compelling piece of content "17 Explosive Content Promotion Strategies" as an incentive for readers to enter their email information. I actually joined Robbie's mailing list and downloaded the eBook and have benefited greatly from his expert advice.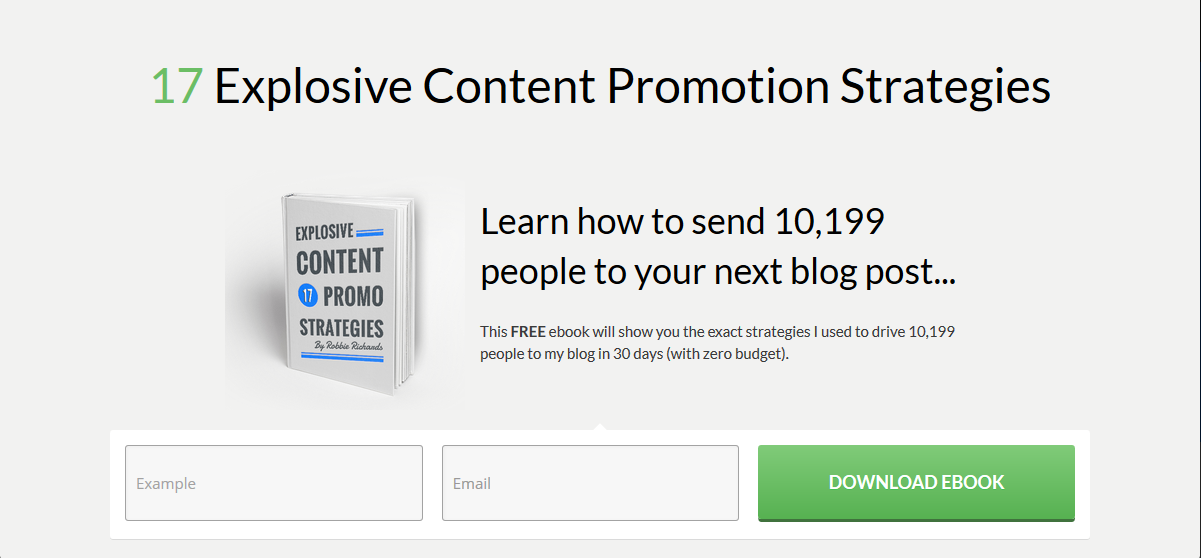 Publish Free Articles
With thousands of new Web sites and ezines popping up on the Internet every month, the demand for high quality content is immense. So you can get some very valuable, free promotion for your business by providing original articles you've written for other webmasters/editors to publish on their web sites, ezines or blogs. At the end of your article put your name, a short description about your business including your local market, and a link to your Web site. For enticing more visitors offer people something of value such as a free real estate report on their area.
Having your articles published on other websites enhances your expertise in a prospect's eyes. It's the equivalent of someone vouching for your knowledge and saying "this person really is an expert in real estate".
Why not get started right now? The Lone Wolf blog is accepting articles from guest contributors.
Submit your article to the Lone Wolf Blog.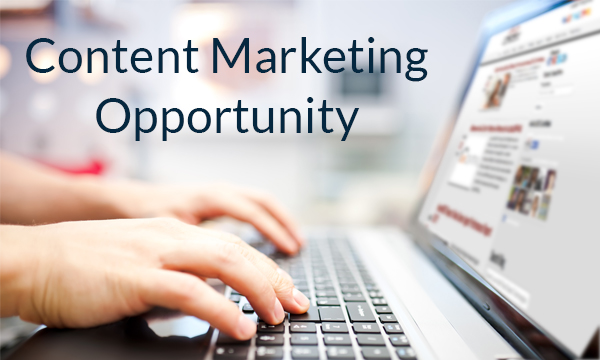 Autoresponders
When someone emails you an autoresponder can send a pre-defined message you create back to them. These can be a great tool because they operate 24/7 automatically unless you disable them.
You can use autoresponders for sending prospects free real estate reports, useful articles, links, and so on. Have your branding prominent at both the top and bottom of each message by using your email signature. Have a separate email account set up for this purpose as you don't want this message getting sent over and over to someone that you're corresponding with about a property. Don't forget to have emails to this account auto-forwarded to your main email account.
Also be sure to get a large storage limit on this auto-responder account and one that doesn't expire if you don't login periodically. The last thing you want is having your auto responder account bouncing messages from prospects because it's at full capacity or has been deleted by your email provider. This could be going on for months without your knowledge and tonnes of prospects could be lost.
For your main email account you should have an autoresponder email that confirms you received their email and will respond to them by a certain date/time. Inform them that if the matter is urgent they can contact you on your cell phone (provide the number) or contact another person (eg. your assistant) at the number provided. Emails often don't get delivered for various reasons, so it's reassuring to confirm you received any email they send you.
Autoresponders are normally freely available from your email provider and easy to setup.
EXAMPLE: Here is another example where Robbie Richards shows how it's done. When you sign up for Robbie's email list, like I did to receive my content promotion eBook, you will immediately receive a follow up email providing more detail about who Robbie is and what you can expect from him. By providing this auto responder Robbie is able to immediately engage new audience members and make them feel as if they have the attention and support of an expert to guide them.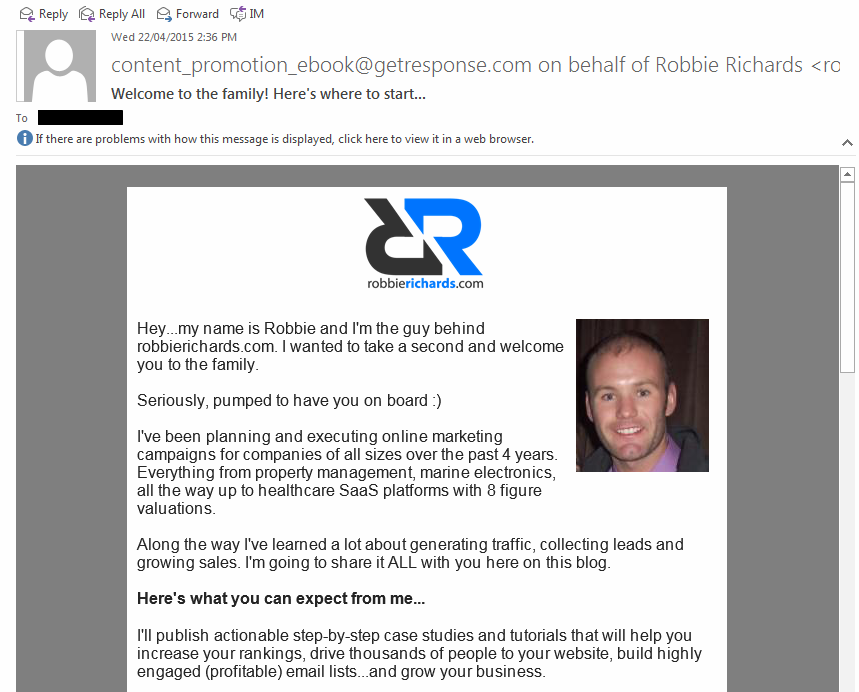 Having A Clear Purpose Online
Today, more than ever, people are seeking instant gratification. Thanks to websites like Google people can quickly find exactly what they want. So you must have a crystal clear vision about your website's purpose and you need to convey it clearly and quickly to your site's visitors. If you don't, you risk frustrating these visitors and having them leave very quickly.
One of the quickest ways of turning off your visitors is by having overly general real estate information. Many real estate professionals offer standard information people can get on virtually any other real estate website, so it's no wonder people don't stick around for long or sign up for their mailing list. The real tragedy is when real estate professionals then dismiss the Internet or Internet prospects as being not worth their time and abandon their online efforts at building their business.
Your website should have information specifically geared toward people who either own a home in your market or are considering moving there. The information should obviously be focused on real estate, but it needn't have only real estate information. Make your site an information portal on anything to do with your market.
Your goal is having people associate you and your website with your market. So if anyone thinks of your market's real estate you are top of mind with them.
Keep in mind that it takes time to build up a real website that has lots of real estate and other information on your marketplace. But it will be well worth the time and money you spend on it. The future of real estate is the Internet and it's becoming ever more dominant in how real estate is bought and sold nowadays. So the more of a presence you can establish on the Internet with your website, the more successful you'll be in the real estate business, especially in the long run.
EXAMPLE: Richard Silver (@richardsilver) is behind the Torontoism blog, an impressively comprehensive online resource of Toronto real estate information. Due to the wealth of information it contains, within seconds of visiting the site you feel comfortable and confident that Richard and his team are true authorities on everything to do with Toronto real estate.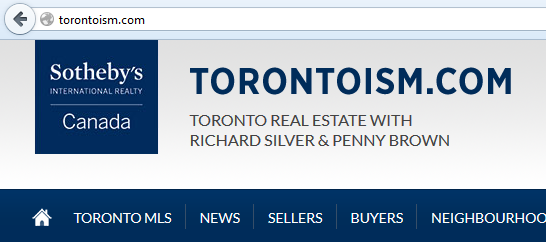 Using A Slogan
It's definitely worthwhile having a slogan, but it's not necessary. It can help your branding become more memorable by expanding upon your domain name. For instance, your website might be <yourcityname.com>condos.com and your slogan might be "Downtown <City Name> Condo Specialist". To get some ideas for your slogan do a Google search for "The Best Website Taglines Around The Internet" for some sites recognizing the best slogans out there.
Whichever tagline you pick, it's important to stick with it. Keeping the same slogan helps a lot with making it memorable. If you change it you'll make your brand more difficult to remember and may even confuse some people.
If you use a slogan then definitely add it to your website's title tag. This will make it so that your website's slogan will be displayed in search engines when your website comes up in search results. This helps reinforce your branding even more.
EXAMPLE: Liv Real Estate (@LivRealEstate), based in Edmonton, AB, uses the slogan Love Where You Liv. It's simple, memorable, and incorporates their brand name. Check out their blog.

Investing in A Logo
Logos are the simplest, most concise way of expressing what a business is, so they're very important. They're the first thing people notice in advertising and the thing most remembered about the ad. As medieval castles were identified by their flags, websites are identified by their logos. As with flags, a logo visually conveys a single particular idea. So spend your graphic design dollars first on a logo.
Today you can get a fine looking logo for as little as $100. If you ask a few graphic designers how much logo design will cost you'll often find wildly varying prices. Some charge thousands or even tens or hundreds of thousands of dollars to large companies for a logo.
A graphic designer needs to be able to translate your ideas into images, so be on the lookout for a designer who can listen well. This is crucial. Some designers will just quote you a price and that's it, take it or leave it. Avoid such people because they're often not all that interested in helping you get what you want. They just want to make something that looks decent and be done with it. Work with someone who makes a sincere effort in getting to know you, your business, and your needs. They'll be the ones that will get you the logo you want with fewer iterations between you and them.
EXAMPLE: Core Assets Real Estate (@CoreAssetsRE) makes use of an elegant logo which is featured prominently on the homepage of their website. Well done Core Assets!

Making The Design Match The Content
The overall look and feel of your marketing materials' design must match what your business offers. If you specialize in condos in your city's urban core, your materials should have a modern, sophisticated, even futuristic look about them. For such a business it wouldn't make sense to have a psychedelic style with peace symbols, doves, acoustic guitars and flowers in your marketing.
Identify who your core audience is and design your marketing materials around their interests, preferences and perceptions. This is why it's best to make your local market the same area you live in. You'll be more in sync on the types of people who live there or want to live there since you're one of them, so your site's design should come fairly easily to you.
EXAMPLE: Los Angeles-based Partners Trust (@PartnersTrust) does an outstanding job of showcasing beautiful listing photos as the homepage slider on their website. These beautiful photographs quickly allow the viewer to identify with Partners Trust and the type of luxury real estate that they have to offer. Partners Trust also makes use of a great logo on their website and social media channels. Good work Partners Trust!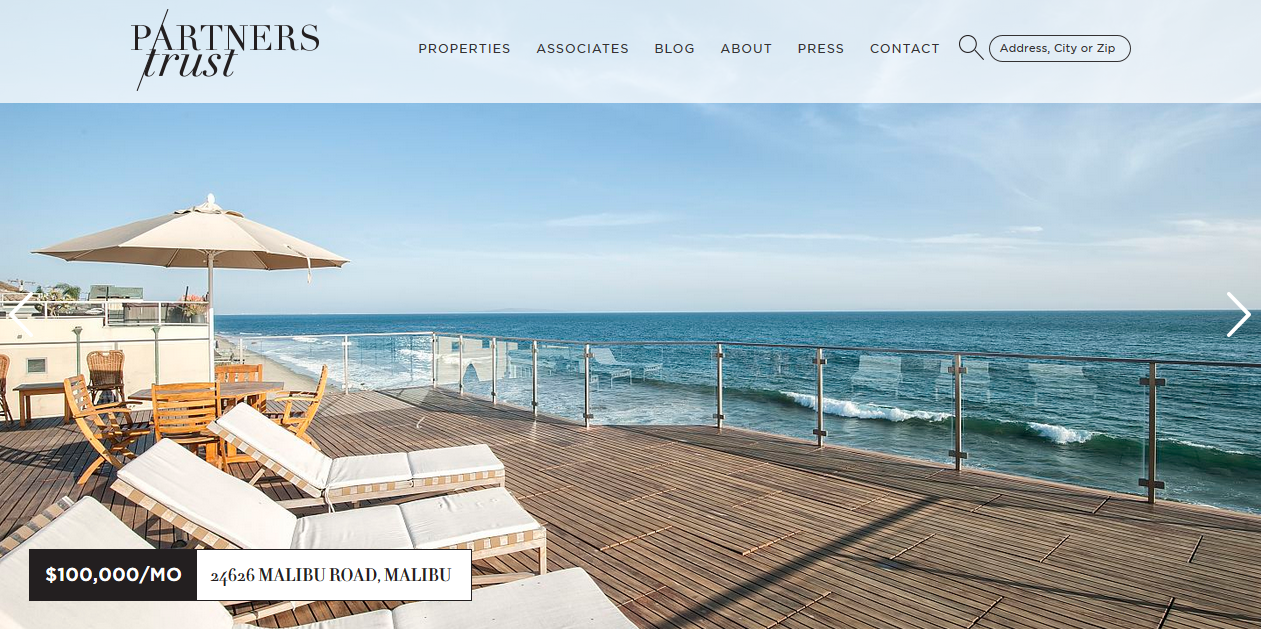 Use A Consistent Colour Scheme
Choose a colour scheme and then use it consistently throughout all your marketing materials. Colours and moods are very memorable, so stick with whatever scheme you use. If you're unsure about how to do this, do a Google search on competitors in your area to see the types of colours their websites use.
In general, use a consistent array of colours in terms of how light or dark they generally are. If you want your site to have a family oriented feel since there are a lot of families in your local market then use brighter colours. Darker, colder colours tend to match up with the modernity and austerity of today's condos.
You can get more information about colour palettes and suggestions on COLOURlovers . It's a creative community where people from around the world create and share colours, palettes and patterns, discuss the latest trends and explore colourful articles.
EXAMPLE: Lone Wolf uses a standardized colour palette that can be found on the Our Brand section of the Lone Wolf Website. Colour codes are provided so that anybody can replicate them easily.

Create Social Media Accounts for Your Business
If you're doing social networking (as you should be) then create separate accounts for business and personal matters.
Having separate accounts follows the same idea with all of your branding: having a consistent, uniform message. If you mingle your personal matters with business matters in your social networking accounts then you put that branding at risk. With Facebook you can't control what messages people leave on your personal account, so your friends may post things that are offensive or irrelevant to your business prospects.
EXAMPLE: Lisa Salt and Gord Fowler use a nicely maintained Facebook Page to promote their real estate business, Salt Fowler Team RE/MAX Vernon. Also, their website slogan is great – Just Add Salt!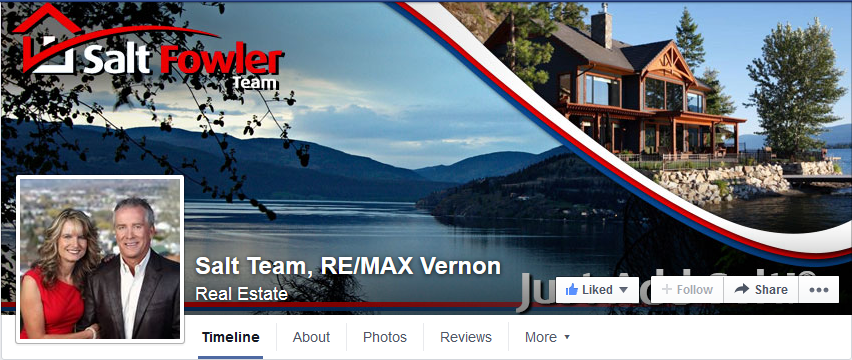 Spending Money On Advertising
Businesses, especially large multinational corporations, spend colossal amounts of money each year on solidifying their brands in the public consciousness. Fortunately, you don't have to spend nearly as much money to do this since your market is local and therefore much smaller.
You can strengthen your branding without spending money on advertising, but paying for it gets you results much quicker. One advantage of paid advertising is delivering a specific message to a specific audience. For example, if you purchase a banner ad on a popular local blog, you can tell who's typically reading it based on the blog's content and the article comments made by the blog's readers. Consequently, you can tailor an ad for appealing to these specific types of people.
If you have a limited advertising budget then pace yourself with your advertising. Don't blow it all on one campaign and expect prospects to start breaking down your door! Rather, like with your branding message, consistency with advertising is crucial. It's far better to contact 500 people 10 times with a flier than contact 2500 people twice or 5000 people only once.
Hopefully your advertising budget won't run dry before you see some monetary return from your investments. If you do run out of money, you can start working with free advertising methods such as writing your own blog, commenting on other people's blogs, getting writeups on your business and expertise in print media, and so on.
EXAMPLE: This Facebook campaign for WOLFwatch was highly successful (generated dozens of qualified leads) and came in well under its allotted budget of $150. By purchasing low budget ads like this on social media websites you can learn what's working and what's not, and optimize your tactics to command the best possible return for the best value.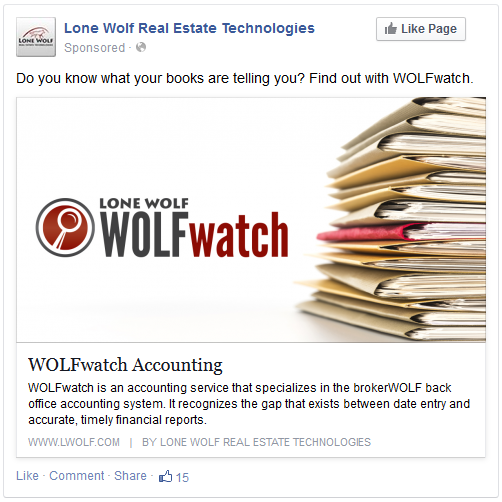 Spreading It Everywhere
Branding is psychological. With branding you're trying to influence the way people think, not just make your brand memorable. To some extent your ability to influence people is a function of the quantity of your branding. The more you advertise, the more likely you'll be remembered.
Practically speaking, you don't have a Fortune 500 sized marketing budget, so you need to make the best of what you've got. On your website have your site's name and logo prominent but not obtrusive on every page. Have your website link in your email signature. Write guest articles for popular real estate blogs so you can demonstrate your expertise in a forum recognized as less biased than your own blog. Comment on blog articles related to real estate and include your website link every time. Engage in real estate discussions on forum sites like Active Rain and include your website link in your signature when ending each message. These are great ways of leveraging what you've already got in terms of expertise and promotion and making them go even further for you for little or no additional expense. All of these things will help a lot with your ranking in major search engines like Google.
You can get the most bang for your marketing buck these days by advertising online. Purchase online banner ads on real estate related websites. Launch a pay-per-click campaign with a major search engine like Google. Purchase premium placement for your ads on highly popular classifieds sites like Kijiji and ones local to you.
Some of the old fashioned ways of marketing are often still effective. Be sure to send fliers to your local market at least once every 2 months. The more often, the better. Distribute promo products with your logo on them. Drop them off at local stores or deliver them to your top prospects. Companies like VistaPrint offer a huge variety of highly customizable, inexpensive promo products with consistent branding you can distribute to prospects and past clients alike.
EXAMPLE: Hank Bailey (@PrudentialGARE) spreads brand awareness by contributing regularly to Inman News. This effort to frequently produce quality articles might only take a few hours a month, but is highly effective at promoting Hank's real estate business. Great work Hank!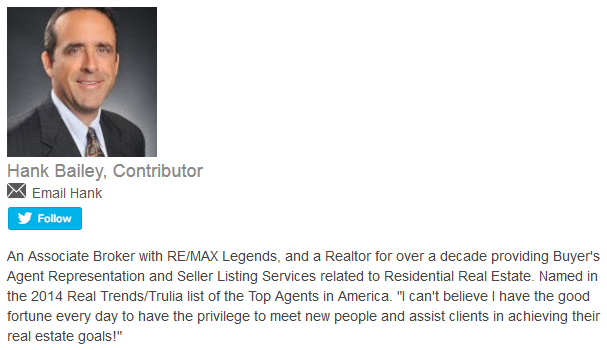 ---
Are there any branding strategies that I missed? Please let me know in the comment section below.
---