Back in February, we wrote about the fragmented nature of transaction management in real estate. At the time, we made a bold prediction:
"Looking to 2019 and the years ahead, I expect it will be entirely possible for brokerages to provide an all-encompassing transaction management experience for their consumers, agents, and staff."
Looking back, it's easy to see just how true that prediction was.
The problems transaction management faced
It's really no secret that there are two problems transaction management faces on a regular basis: Inconsistency and lack of adoption. These two problems feed off of one another, creating a garbled process that only works if an admin knows the inner workings of an agent or broker's mind.
Which, most of the time, they don't.
Transaction management faces two problems on a regular basis: Inconsistency and lack of adoption.
So the end result is an ad-hoc process based on fragmented transaction management tools that don't integrate with one another, and fueled by inconsistent processes that may or may not happen manually. Meaning extra data entry, human error, and many, many systems.
At least, that's what it faced at the beginning of the year. But now?
Now, that's been solved.
It's always been our mission here at Lone Wolf to make transactions simpler for every level of real estate. Transactions are already a big enough deal; they don't need technology complicating the issue. That's why earlier this year, we introduced a solution to the key problems of transaction management.
We called it Link
Link was designed as the first two-way integration for back office and transaction management ever in real estate. And through its ability to connect these two key parts of a transaction in real time, it was able to solve both sides of real estate's transaction management problem: The inconsistency, and the lack of adoption.
It created a central location for every stage of a transaction, where everything could happen digitally per the brokerage's established process and without any need for extra data entry. But don't just take it from us.
‍
"Most of the products that are out there don't have that integration, and it's double entry—it's not as efficient. With the brokerWOLF system, that's been solved for us."
Eryn Richardson, General Manager and Partner, Century 21 Heritage Group
It created a system that benefited all parties in a transaction with a digital platform that agents actually wanted to use—both because it made their lives easier, and because it helped them provide a better experience.
"To have the full integration ecosystem—it's not just for the agents, but for the consumer. Consumers are looking for information quickly, they're looking for it digitally—and providing that solution gives the agents the opportunity and power to impress their clients with how tech-savvy they are."

- Eryn Richardson, General Manager and Partner, Century 21 Heritage Group
And ultimately, it created the foundation for what was to become real estate's leading technology ecosystem. By establishing a bridge between the two key components of a transaction, it set the precedent for us to build up an all-encompassing real estate experience through partnership integrations.
Link already launched—but it's back in the news again.
Although it's been solving the transaction management problem for brokerages and agents all over North America this year, Link's story is far from over.
Since our acquisition of zipLogix earlier this year, we've been working hard to bring Link's saga of simplified transactions to everyone who uses our transaction management solutions. And today, we're thrilled to introduce you to Lone Wolf Link—now available to connect zipTMS with brokerWOLF.
You can learn more about real estate's only two-way integration for back office and transaction management here—or ask us your questions here!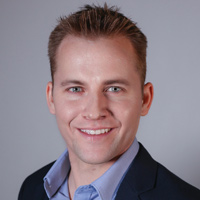 Graeme Canivet
Graeme is a Product Director with Lone Wolf responsible for our Transaction Management solutions and Partnerships. With over ten years working with top Franchisors, Brokerages and Realtors across the US, Canada and Europe he understands the importance of keeping solutions simple while also meeting local demands in order to manage deals effectively. He has a background in Computer Science and enjoys traveling, soccer, sailing and golf in his spare time.