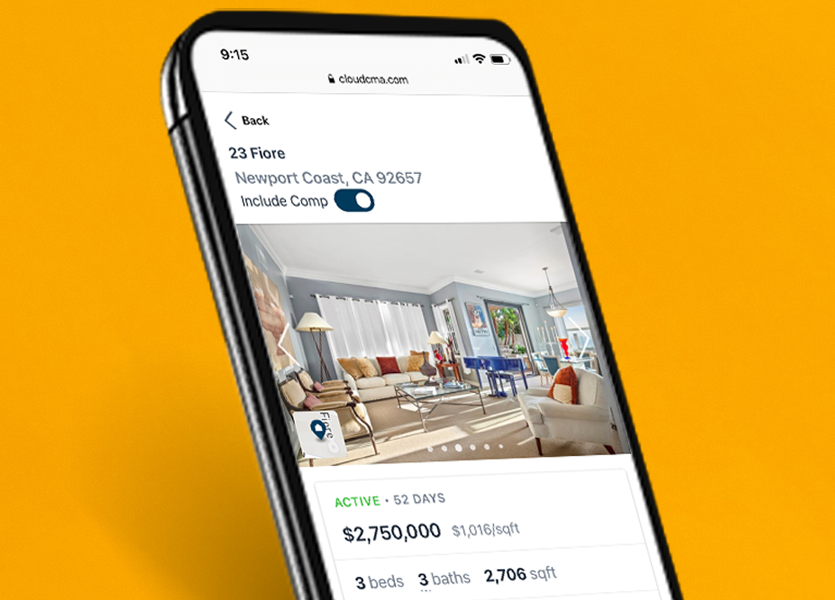 Got listings on your mind? Meet your new secret weapon:
The new Cloud CMA for brokers is here!
Released today, the award-winning CMA solution now features a brand-new connection to Lone Wolf Transactions (zipForm Edition and Transaction Edition), real estate's leading local/state/national member benefit, to help your agents work faster, look better, and win more listings than ever before.

Here's how the upgraded solution helps you and your agents compete today.
It puts the power to win listings in your agents hands
In a fiercely competitive market, every interaction can be the difference between winning and losing. Make those moments matter by arming your agents with visually-stunning CMAs, unrivalled interactive presentations, and automated live CMAs for past clients.
Bonus: our new integration with Transactions means agents start transactions right from their CMA, so they can work faster than ever before and get a head start on their competition.
It helps your brokerage stand out from the pack
Be the brand that makes the others jealous, with thoughtful, modern, and branded digital content for your agents and their clients. The broker edition of Cloud CMA comes with custom visual themes and reports for brokerages, as well as a broker dashboard to monitor activity.
It gives your agents and clients the complete experience they deserve
Cloud CMA's new integration with Transactions means your agents can have:
Instant transactions from CMA
Instant CMAs from Transactions
Instant listings from Transactions.
But more than that, this new integration gives brokerages—and their agents—the only end-to-end transaction experience available in real estate today (the very same experience that gave Greg Roberston of Vendor Alley his first holy #*%@ moment at Lone Wolf!).

"So, at the listing presentation, the information from Cloud CMA can populate the listing agreement, that information goes into their transaction, then directly to the MLS. Then once a deal is done, agents do literally every other thing they need—the contracts, eSignatures, deposits, and now even order title—all in the same system, and all with the same data. That's crazy awesome." Greg Robertson

Just think about that. For the first time, agents and brokers can now do everything a client needs to buy and sell homes, from CMA and listing presentations to transactions and eSignature to digital title orders and earnest deposits—all in one solution, all using the top digital tools available in real estate today, and all available through the Lone Wolf Broker Cloud, which also connects to leading brokerage solutions for Back Office, Insights, and Recruit (coming soon!).
With Cloud CMA connected to Transactions, your agents and your brokerage can have a complete—and completely connected—real estate experience from listing to close and beyond, making it that much easier to do the same for your buyers and sellers.
Looking for your head start in the listings race?
Come join us for a webinar next week and see for it for yourselves. You can also read the full press release here.

*Cloud CMA is only available for select regions