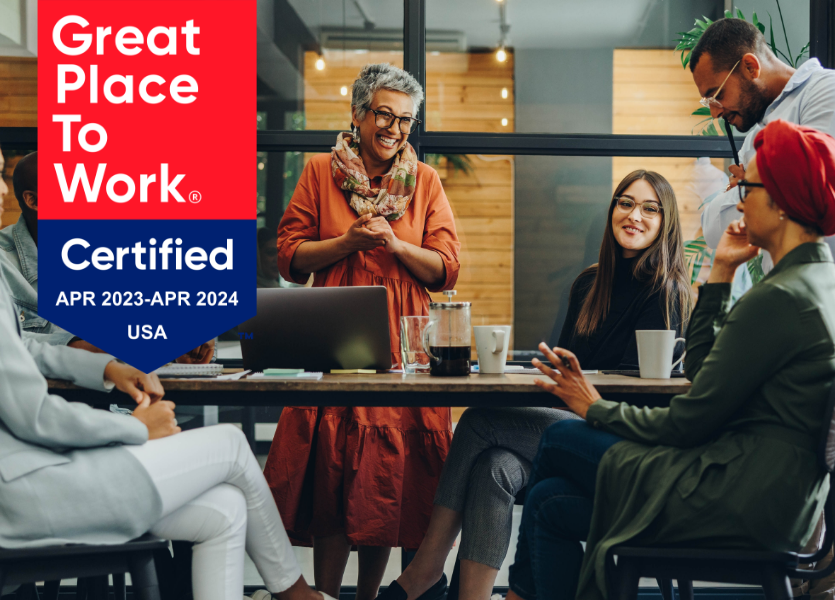 At Lone Wolf, we believe that for people to do great work, they need a great place to work. Over the years, our team has put a lot of effort into creating just such an environment—and we're so excited to share that this year, we've been officially certified by Great Place to Work!
The prestigious award is based entirely on what current employees say about their experience working at Lone Wolf. This year, 80% of employees said that Lone Wolf is a great place to work, compared to the U.S. national average of 57%. Factors included in employees' opinions included having great work-life balance, honest and ethical management, being trusted with a lot of responsibility, and being able to be their authentic selves every day.
"Receiving this great honor wouldn't be possible without our amazing team, who is undeniably Lone Wolf's biggest strength and greatest asset," said Christina Rau, Vice President, Human Resources at Lone Wolf. "Our internal culture is built on core values centering around customer centricity, teamwork, resiliency, and being a strong leader in real estate—and our employees show up to work every single day embodying these values. This certification demonstrates the importance we place on the employee experience, and we are pleased they recognize that."
At Lone Wolf, we're proud of and accountable to the work we do every single day, and it shows through our mission of helping real estate pros feel empowered by simplifying the real estate experience with fast and intuitive software. From lead to close to commission, we help agents and brokers get a leading edge in a competitive marketplace and elevate the real estate experience they provide to buyers and sellers today. And none of this could be done—let alone done above and beyond—without the talents and prowess of Lone Wolf employees.
"Receiving this great honor wouldn't be possible without our amazing team, who is undeniably Lone Wolf's biggest strength and greatest asset."
About the Great Place to Work certification
Great Place to Work is the global authority on workplace culture, employee experience, and the leadership behaviors proven to deliver market-leading revenue, employee retention and increased innovation. "Great Place to Work Certification is a highly coveted achievement that requires consistent and intentional dedication to the overall employee experience," said Sarah Lewis-Kulin, Vice President of Global Recognition at Great Place to Work.
She emphasized that certification is the sole official recognition earned by the real-time feedback of employees regarding their company culture. According to Great Place to Work research, job seekers are 4.5 times more likely to find a great boss at a certified great workplace. Additionally, employees at certified workplaces are 93% more likely to look forward to coming to work, and are twice as likely to be paid fairly, earn a fair share of the company's profits, and have a fair chance at promotion.
"By successfully earning this recognition, it is evident that Lone Wolf stands out as one of the top companies to work for, providing a great workplace environment for its employees," added Lewis-Kulin.
Thank you to the entire Lone Wolf team for helping us achieve this great honor!