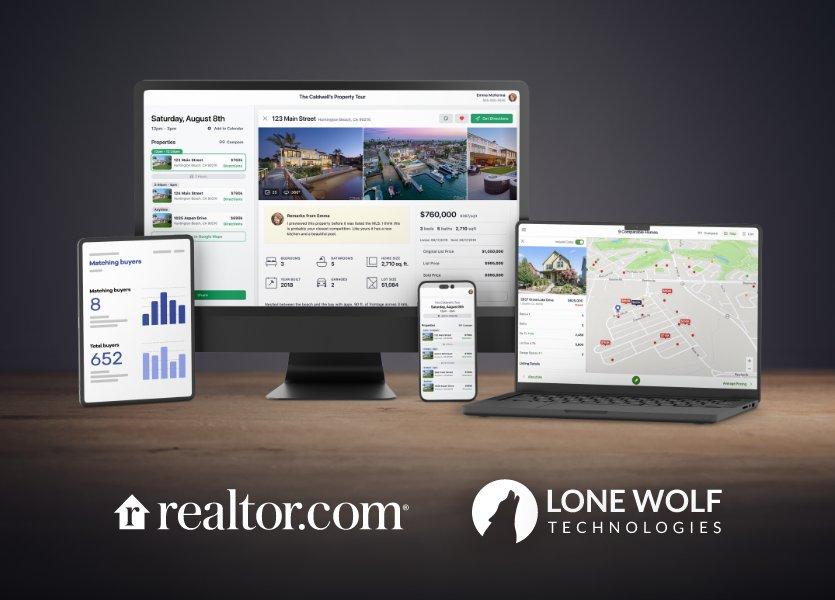 Prove you're the expert and gain an edge with prospective sellers with an exciting new tool for Cloud CMA
Let's face it. This market's not for everyone.
But with great challenges come great opportunities. With the right processes and tools that are tailored to the latest real estate conditions, any market can become your market.
That's why we are thrilled to announce that we've teamed up with Realtor.com® to give you the extra edge to win over your seller clients. The newest product from Realtor.com®, the Listing Toolkit, now plugs into real estate's top CMA solution, Cloud CMA by Lone Wolf, to help you turn those make-or-break listing presentations into signed contracts.
What is the Realtor.com® Listing Toolkit?
The Listing Toolkit is a new product from Realtor.com®, which features a comprehensive offering to help agents win and sell more listings. It harnesses data from Realtor.com® to find buyers who are searching for homes, along with their budgets and preferences, and helps agents connect directly with the buyer's agent about their listing.
The Listing Toolkit and Cloud CMA, together 
This unique collaboration brings exclusive new buyer intel from the Listing Toolkit into Cloud CMA, helping agents arm their sellers with all the information they need to list and sell confidently. 
Create compelling listing presentations that are hero—not zero
Cloud CMA helps you create and personalize visually stunning CMA reports in just a few clicks with data straight from the MLS. Sellers will appreciate the reports that feature comps with large photos and property details, interactive graphs that showcase recent market activity, content pages that help address any concerns about the selling process, and more.
Prove that there is demand for sellers' listings with new premium reports from Listing Toolkit
Show your sellers who is looking for properties like theirs with reports such as:
Matching buyers: Combined with your CMA, this report can prove to your sellers that you not only know how to position the home, but have access to active buyers as soon as it's on the market.
Cross-market demand: A powerful report that shows where demand is coming from for your market, information that can demonstrate how you will promote the home—and where.
Buyer demand: A snapshot of overall buyer demand in a given area, an incredibly useful report that can demonstrate interest in your client's property and help inform your pricing strategy.
Win more sellers' listings and close more deals 
When you can prove that you have a path forward for your clients, regardless of the current market, you can position yourself as the expert and gain the trust of seller prospects. Help them enter the market with confidence and find the buyer they're looking for.   
Ready to sharpen your competitive edge? 
Sign up for the Listing Toolkit today, and log into Cloud CMA to get started. 
Bringing you the best tools in real estate through collaboration 
Lone Wolf's technology connects with all your favorite tools to put the best information, the best experience, and the best software in your hands. We're committed to collaborating and connecting with other industry leaders, including Realtor.com®, and connecting their tools and solutions to our own to make real estate work better for agents, brokers, buyers, and sellers. These integrations comprise our Marketplace, our free catalog of partner integrations. Learn more about our partnerships here.