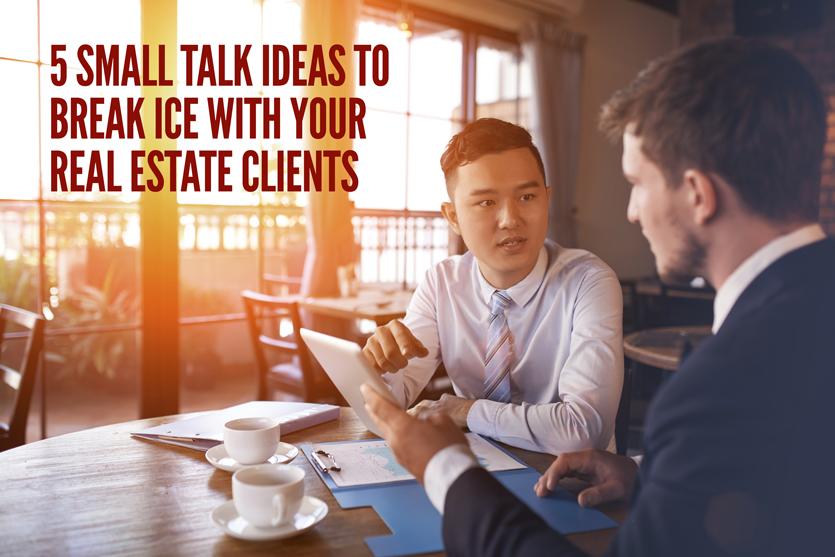 As a real estate professional you meet a lot of new people on a daily basis, some are new and some are existing clients. It's easy to have a conversation with people you know - you have a history and may be some common friends. A new client? Well, that's a different ball game. I find it a challenge to get past the first couple of minutes in a conversation with a stranger. The struggle is real! But, over the years I've gotten better at speaking with strangers. Here are my 5 small talk ideas that might help you break the ice with your real estate clients.
Ask them how they are doing
You might be surprised how easy it is to start a conversation with this. Don't be deterred by the answer "good", take it a step further and ask them if they had a good week/weekend or if they have anything fun planned for the weekend. This is one of the easiest icebreakers out there and it works.
Ask a question
I know this sounds odd, but try it! Ask them for their view or opinion on a matter. It can be the locally elected representative or the new law passed or any recent topic that would ensure an opinion from your client. This is a great opportunity to judge your client's personality and will help you in your selling process. Be as open-ended as possible in your responses. Let the client tell you what they think!
Find a link
Let's be honest here, if you've been in the business long enough, you'll find a link a common friend or a local diner or a favorite author. Find that link and talk about it. This will put your clients at ease and will help them open up to you and build trust.
Talk about a national event
Frankly, it could be anything! The Olympics is a great example; everyone will be rooting for their favorite country or team. They might be following a sport in particular. You could also talk about the Golden Globes or the Super bowl halftime show. Events are great conversation makers.
Trusty small talk champions – the weather and coffee
No, don't make fun of these ideas yet; they are truly the champions! I have seen time and again how people get passionate when I say "the weather's beautiful today". And it's true when people say a lot can happen over coffee. Take your clients for a cup of coffee during the first meeting and ask them how they like their beverage and their likes, dislikes about it.
The key to small talk is being comfortable in your shoes and keeping the conversation going. Don't be alarmed by the occasional silence! It's totally fine to reboot the conversation with one of the ideas listed above.