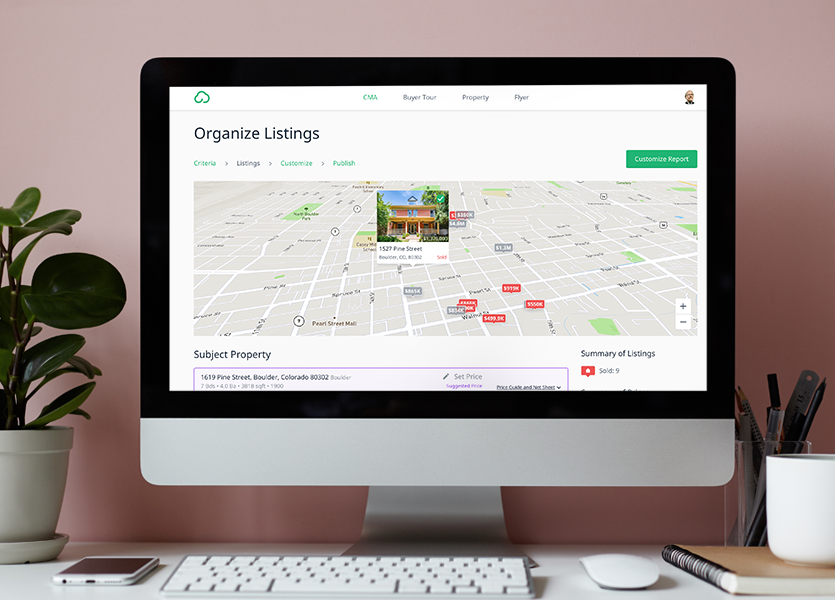 This low-inventory, highly-competitive market is quickly shifting the way you run your brokerage—and the way your agents do business. More than ever, you and your agents need to work fast and efficiently to win business...and there is no end of this shift in sight.
But more than just working fast, your agents must be laser-focused on winning listings. And the best way to help them is to give them the tools to stand out against their competitors.
That's why we're excited to show you how Cloud CMA for brokers connects directly with Lone Wolf Transactions (zipForm and TransactionDesk Edition), the transaction management member benefits provided across the country.
With Cloud CMA for brokers, you can:
Help your agents save time from entering the same information over and over again
With this connection, your agents can go from listing presentation to listing agreement to listing input into their MLS without re-entering any data. Or they could go from Transactions to start a Cloud CMA; whichever way they work, so does Cloud CMA!
Give your agents and their clients the digital experience they deserve
Take the listing presentation experience a huge step further (without making it harder on your agents). Cloud CMA for brokers also gives your agents a unique option to interactively present their CMA—whether in person or via Zoom—with Cloud CMA Live.
Update comps on the fly during the listing presentation to either add or remove specific listings from any CMA report. Highlight key market analyses of where their seller's home stands up in the current markets. And do it in the way today's consumers are used to—all online.
Show off your brand to buyers and sellers
Help your brokerage win in a competitive market by keeping your brand front-and-center. With Cloud CMA for brokers, set your agents up with your brokerage branding, so that it is not only consistent but stands out in every report they create.
Provide leading digital tools to generate new business
Listings are the new gold. Included with every broker version of Cloud CMA, Homebeat, which automates live CMAs to past clients, an easy, fast way to stay in touch with and reengage previous clients.
Win the listings race with Cloud CMA for brokers
Connected with Transactions and featuring an end-to-end experience that's never been seen before, Cloud CMA for brokers puts everything your agents need in one place to create, market, and manage their transactions in a digital world, and gives them real estate's leading tools to do it better than anyone else.
In this competitive market, giving your agents the tools that help them compete and save time is more important than ever.
Want to see it all in action? Use this link to schedule a demo!