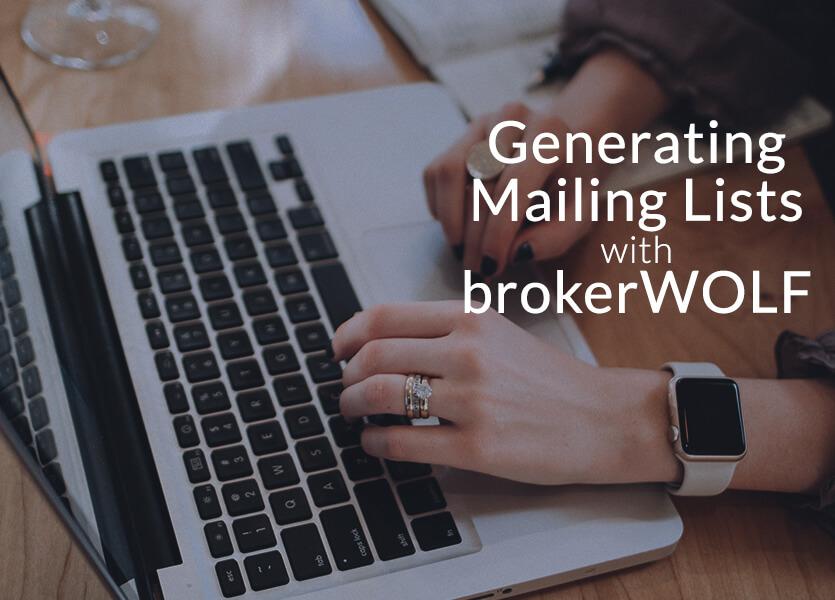 It's that time of the year again when your company or agents may wish to send out a year-end or holiday communication, you can generate mailing labels for buyers and sellers from brokerWOLF!
To setup default label formats for buyers and/or Sellers from the Listings (1.1) and Trade/Transactions (2.1) modules go to the Label Formatting option I.A.
To setup a new label, from the I.A List screen, click the Add button and select Listings or Trades/Transactions to setup a new address label format. This will bring you to the Details screen where you can select the fields you would like to include on the label.
On the right hand side of the screen a sample label will show. Select a row to modify by clicking on it. Then go to the Available Field list on the left, and highlight the field which you wish to print on that line. Click on the > button to move the highlighted field to Selected Field list.
Continue highlighting the next lines, and selecting the desired fields, until you have your label setup.
You can put more than one field on a line. To change the horizontal position of the fields, drag the "handles" (box to the left of the field name), in the Selected Fields list to change the row you are editing.
When you have completed your label setup, click the Store button.
Once your address label is setup, while editing a Listing or a Trade/Transaction, you can just click the Label button and it will generate the custom label you created for your buyers/sellers. You can also click the Label button on the Listing and Trade List screen to select a range of properties to print labels for, ie. All Available Listings from 1.1 or Closed deals before or after a certain date in 2.1.
There are other ways to generate customized lists from your brokerWOLF system as well which you can export to MS Excel or MS Word.
Utilizing the Transaction Lead Report (2.P.C.4), you have the ability to select a date range, include buyers and/or sellers, etc… Once you click the Export button, this will create an MS Excel file with the selected information. You can also click on the "Report by Agent" checkbox to generate a list by agent. Once the information is in Excel you can then manipulate the data you require for mail merges or printing labels.
You can also setup custom mail merge templates in the Custom Reports tool (T.C). Please take a few minutes to watch the "T.C.2 – Creating Mail Merges" tutorial on our website for more information on using our Custom Reports tool (T.C) to merge fields into MS Word to print labels or envelopes.