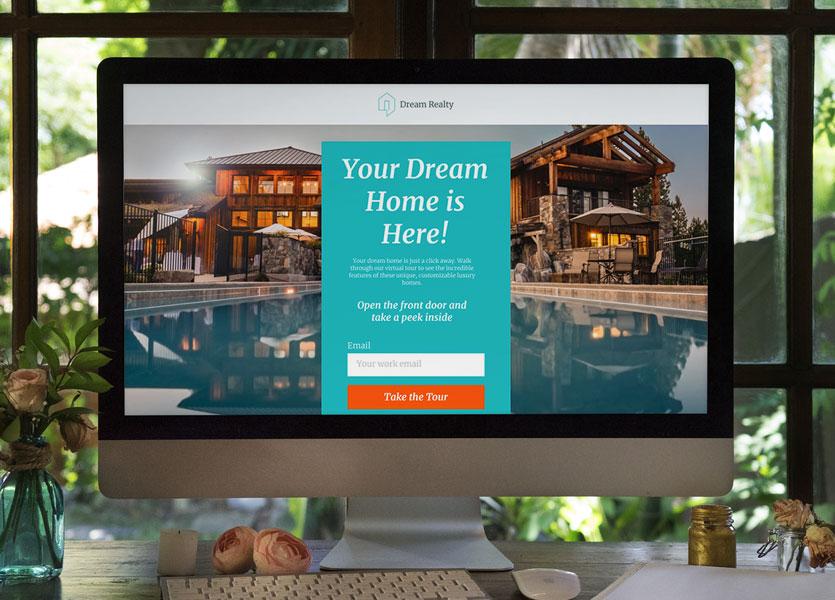 As a real estate agent or broker, you know how important it is to have a website. That's ultimately how potential clients learn about your business, find your current listings, and decide if they want to work with you over another agent.
But when it comes to getting new leads or creating ads on Facebook, your full website may not always be the best place to send people.
In fact, sending consumers to a single landing page—with a single focus—converts leads at a significantly higher rate than sending them to a generic website.
What's the difference between a landing page and a website?
Your website is the hub for all your information. It's meant to inform and engage your customers and uses multiple pages to do so. A landing page, however, is a single page that is designed specifically to convert visitors into leads.
It is different from a website in that it has a single focus—to capture a visitor's information for a specific deliverable—and that makes it more effective.
Introducing LionDesk Landing Pages
A new add-on feature to LionDesk CRM, Landing Pages lets you create unlimited landing pages that are hyper-targeted to a specific function that you can then share on Facebook, through advertising, in your email signature, and more.
With Landing Pages, you can create a high-converting landing page in minutes with built-in templates and drag and drop features that place your brand front and center.
Bonus: Any leads generated from your landing pages will go directly into your LionDesk CRM where you can automatically generate responses or trigger drip campaigns.
LionDesk Landing Pages comes with numerous templates to choose from—each with their own specific focus—so you can effectively target buyers or sellers in your local market.
Here are five landing pages you can create in minutes:
1. Book an appointment
This is a simple landing page for your potential buyer leads to book an appointment.
When creating a landing page for appointments, be sure to set clear expectations about when and how a lead will hear from you. (Eg. Will you email them? Call them?)
Also, be sure to give visitors the option to call right away. Remember, in real estate, it's all about Speed to Lead. First response wins.
2. Home valuation
This is a landing page targeted to seller leads. When creating a landing page for home valuations, make sure you name it in a way that's intuitive for the visitor, it may be your hundredth time selling a house, but it's likely their first or second. Instead of "Home Valuation" try something more user-friendly, such as "What's My Home Worth?"
Be sure to make it easy for the site visitor to enter their address and email to receive the valuation.
3. Community
This is a great page to capture all types of leads in your local community!
An effective community page should offer visitors a combination of images and content that demonstrates your expertise in a local area. Include search keywords and phrases relevant to those areas.
By focusing on these keywords, you'll increase your chances of ranking at the top of Google search results and getting found by motivated leads ready to reach out.
4. Buyer
This is another great page if you're trying to attract buyers. Create a buyer's guide lead magnet and have them provide their information in exchange for the guide.
By offering a downloadable home buyer's guide, you can give prospective clients a valuable resource that demonstrates your expertise and opens up lines of communication.
5. Seller
This page is similar to the buyer's guide landing page but targeted toward sellers.
Home sellers are also looking for advice! A downloadable seller's guide provides useful insights and demonstrates your expertise.
If you're already using LionDesk CRM, use this link to add Landing Pages to your account today! To start using LionDesk Landing Pages today, use this link to get started! Don't have LionDesk CRM? Try free with our 30-day trial and add-on landing pages!