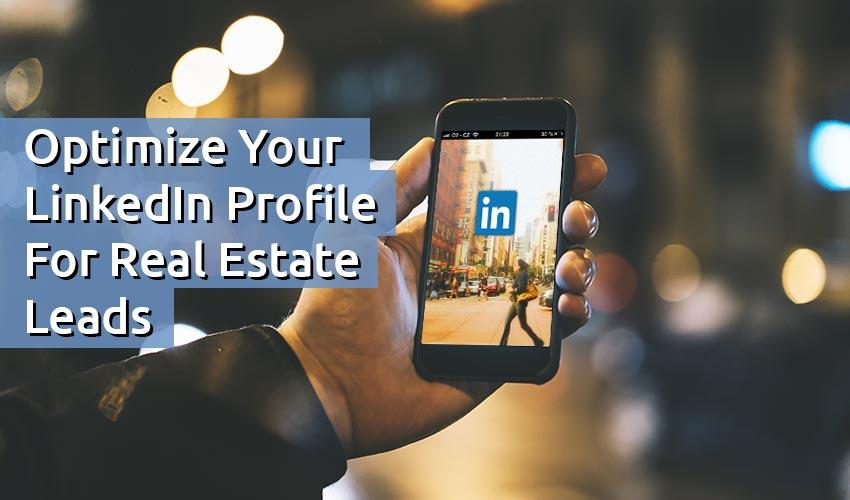 Of all the social networks online today LinkedIn stands out as the top destination for professional interactions. Having the reputation as the go-to site for those looking for jobs, it's actually much more than that. LinkedIn has morphed into a powerful platform to connect professionals, including those in the real estate field. Getting your profile whipped into shape and ready to capitalize on potential leads this social media platform can generate for you.
1. Maximize Your Profile
The first and foremost thing you can do with your LinkedIn profile is fill it out to the utmost. While this may take some time, it's definitely worth the effort. Include a professional quality headshot with your profile. Choose a professional headline that uses keywords people would be using to find your profile. This is important because you want your profile to be found within LinkedIn via search, and externally by search engines. Including real estate in your headline is crucial as it is more likely to be searched for than the term realtor. The more data you include about your experience the more likely you will show up in search results. Even if you've optimized your profile previously it's good practice to check in every few months to see if your profile is up to date. LinkedIn has added lots of additional fields and ways to highlight your work experience including the ability to add documents, photos, links, videos and more to your profile.
2. Give To Get Recommendations
One of the most powerful things you can add to your profile is a recommendation from colleagues who have worked with you. The best way to actually get a recommendation is by being willing to give them. Recommendations do take some amount of time and effort to write, so the best way to spur someone to write one for you is to write them for other people. LinkedIn solicits skills and endorsements from your contacts about you all the time, but getting a personal recommendation for your work is far more valuable.
3. Maximize Who You're Connected With
LinkedIn has quite a few methods to connect with people you already know. Connecting your email address book is the best tactic for shaking out all the people who you know on the platform. You can also upload a csv or txt file with your mailing list. It will then match up those email addresses with who is using LinkedIn. You never know where your next lead could come from. Maybe you played softball with a guy 5 years ago who's in the market to sell. Expanding your network on LinkedIn is crucial to generating leads. Check out the People You May Know feature often. Since it's a social network LinkedIn starts trying to figure out who you might know through shared connections. If you share multiple connections with a certain person there's a decent possibility you may know them.
4. Share Great Content And Be Active To Keep Top Of Mind
When you make a connection with someone on LinkedIn odds are this person isn't going to be in the market for your services right then and there. Updates are a great way to keep yourself on someone else's radar. When sharing great content it's always a good idea to offer your own insights on the share to provide context. When you share content, like an article or update your profile these changes will often be visible to your contacts in the news feed. Actively engaging on the platform keeps your name and title in at the top of their minds, even if they don't realize it. Social media mentions have been shown to trigger purchasing decisions, so getting your name into someone's short term memory could really pay dividends when making the big decision of who to choose to list their house.
5. Direct Mail Campaigns With Sponsored InMail
LinkedIn allows you to create direct marketing campaigns with Sponsored InMail. Allowing you to target prospective leads using geography is a great way to find your next customers. LinkedIn can target users in a specific zip/postal code and make sure your message is delivered to active LinkedIn users in a particular neighbourhood you want to market your services. LinkedIn claims a 100% delivery rate for sponsored InMail. If a message isn't read, you don't pay for it, which is pretty handy. Catering your messaging to particular local audience can really yield results. The agents that I see having the most success in my neighbourhood are the ones that actually cater their messaging directly to the area. Instead of delivering a generic message about your sales prowess, send an InMail that talks about homes you sold in that neighbourhood.
6. Curate Your Online Professional Image
Using LinkedIn is a great component as part of a larger strategy to manage your online brand. LinkedIn profiles rank quite well in search engines and will often show up on the first page of results. When curating your online image it's important to make sure when people search for you and your brokerage that they're finding the right kinds of information. Your brokerage webpage and social media profiles all help you control the messaging, branding and information that can be found online about you. I know professionally when coming across a new contact I will always Google someone to find out a little more about them if I've never met them before. Having a fully fleshed out LinkedIn profile can really help someone who may not be familiar with you get a sense of what you're all about.