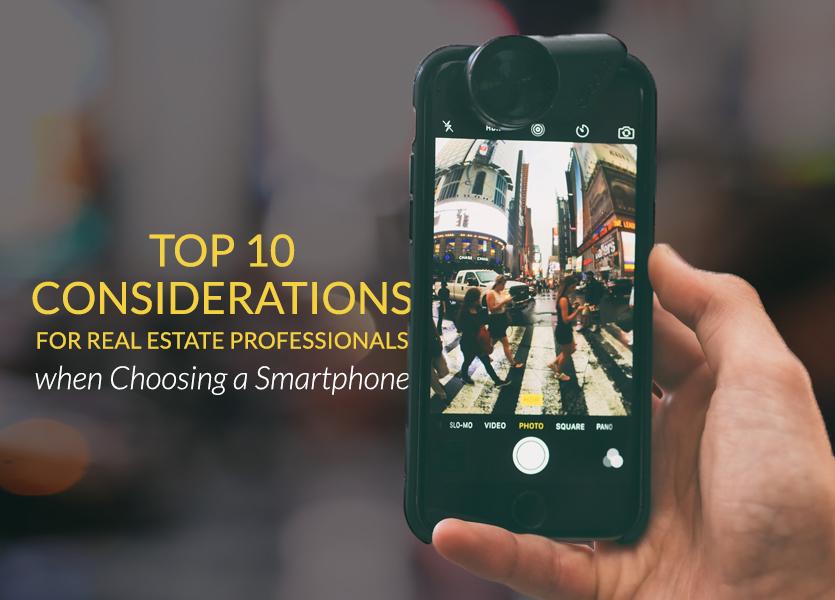 When you're a real estate professional, choosing a smartphone is a big deal. You'll use your smartphone to email the office, text your kids, communicate with agents. You'll search the internet, use apps, store documents. And for most real estate professionals, your smart phone is your camera, video camcorder, telephone, GPS, address book, and can even be used to submit deal sheets.
Your smartphone is vital to your professional and personal life. That being considered, what do you need to know when choosing a smart phone?
Price: Are you willing to pay any amount of money to have the best product? Or would you rather pay 15 to 40 percent less for a phone that's second best? A smartphone with a basic camera, battery life and display that will allow you to run apps will cost you at least $150 USD. A mid-range phone with a decent camera, display and processing power that will allow you to run multiple apps simultaneously will cost you between $400 to $550 USD. Top of the line phones will range anywhere from $550 to $1,000 USD. Whatever you prefer to pay, there are phones that provide great value at all price points.
Processing Power: How capable is the phone in running multiple apps and performing simultaneous tasks? Phones with adequate processing power need sufficient processing hardware that is well optimized with the phone's software and network.
Battery: Real estate professionals are like sharks: they're always in motion. So you don't have the luxury of letting your phone charge at your desk all day. A phone with no battery is the same as no phone at all! The phone's battery size, its ability to use power efficiently and its operating system (iOS is most efficient) will affect how long you will be able to actually use your phone.
Operating System: Most smartphones run on the Android OS or Apple iOS while a small percentage of smartphones run on Microsoft's Windows 10 or the (now largely defunct) Blackberry OS. Your comfort with a certain operating system (and the applications that come along with it) will greatly influence which phone is suitable for you. Speaking from personal experience, it really is a big deal to move from one OS to the other!
Display: Real estate professionals use their phones to look at listings and to show listings to clients. So it's pretty important for real estate professionals to choose a phone with a large display and high resolution.
Camera: Agents aren't the only real estate professionals who find themselves using their phone to take pictures. Most Broker/Owners wear many hats and find themselves taking pictures of houses, documents, and receipts. It's important to know that there is no 'one-size-fits-all' smartphone camera. Camera quality is different in every make and model of phone. So if pictures are a big part of your day, then consider the smartphone's camera carefully.
Video Recording: Your phone's video capability affects your ability to take videos of houses, give virtual tours, and partake in video conference calls. Again, there are major differences among smartphones when it comes to video quality, so take some time and read some camera reviews from the experts before purchasing your smartphone.
Storage: Data storage may be boring, but it's important to everyone who uses their smartphone regularly. Your phone's storage size (as well as its ability or inability to accept an external memory card) is directly responsible for how many pictures/videos/documents/contacts/apps your phone can have before experiencing lag or being unable to store or download new data.
Look and Feel: The fun part: do you like the way the phone looks and feels in your hands? Size, weight, and aesthetic are critical considerations for any working professional, but especially real estate professionals. Like a car, your smartphone's external dimensions and appearance will affect your comfort and enjoyment in using the phone. Do you like a big phone with a very large screen (great for reading in bed) or a small phone that fits comfortably in your hand (great for multitaskers)? How your smartphone looks will also communicate a lot about yourself to millennials. A BlackBerry will show your clients you're all business while a sleek Samsung will communicate luxury and your attention to how things look.
Compatibility: I found this one out the hard way. Providers don't offer service for all phones. If you are already in a contract or associated with a certain cell phone provider, it might make financial sense to continue with that cell phone provider. Cell phone providers have relationships with certain brands and often don't offer every top-of-the-line phone. For example, a great brand like XiaoMi is seldom offered by North American cell phone providers. Another option is to buy an unlocked phone and then choose the cell phone provider of your choice. Just make sure their service is compatible with the make and model of your phone.
What's most important to you will differ depending on how you use your phone. What do you think matters most to real estate professionals? Let us know in the comment section below!
Stay tuned for Thursday's blog where we go over the top phones in 2017 and their suitability for real estate professionals!