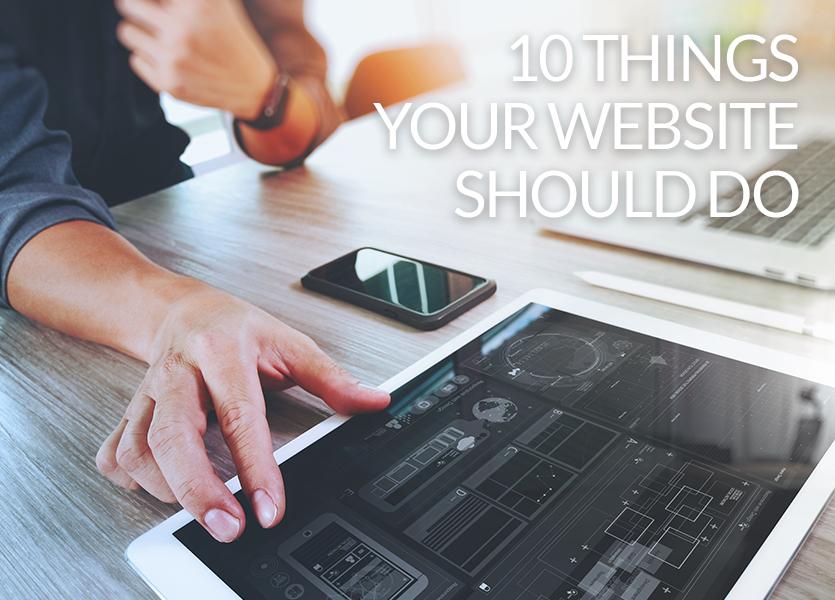 Websites are one of the most important pieces of a brokerage's digital presence. Websites are the most likely starting place during the home shopping phase. Home buyers complete an average of 11 searches before taking action on a real estate site. As such, getting clients to your site, keeping them on the site and keeping them coming back are all equally important in building your pipeline.
Here are the 10 top things your website should offer your clients:
1. Property search is a primary focus
Multiple types of property search will appeal to different types of buyers. These search types include:
Address search
Amenity search
GPS and/or Map search
Neighborhood and/or Postal Code search
School District search
Pre-defined searches to quickly point visitors to niche properties, such as lake-front cottages or downtown condos
2. Prompted or forced user registration
Forced or prompted, registration on your site needs to be promoted. Visitors need to be told what to do. So having your registration box pop up until the visitors are successfully registered helps inform your visitors what is expected of them.
Make sure to offer value for registering by offering additional functionality or content (even by newsletter or email) that would otherwise not be available to non-registered visitors.
3. Blog and content pages
Content is king. Being able to easily integrate and add your content pages will save you time and add valuable SEO content for your site.
Make sure your content is organized efficiently with meta-tags and easy to navigate.
Additionally, as video engagement has skyrocketed over the last few years, it's critical that your website allows video content to be embedded on content pages and even on your home page.
4. SEO strategy
If content is king, SEO is queen. You can have the best content and tools available, but if the search engine isn't aware of what that content is or what it means, you won't get the traffic you desire.
SEO is an evolving skill set. If you're hiring a 3rd party to build or manage your website, make sure they are proficient with today's SEO needs such as structured data. Here is more information on Schema's and Structured data.
5. Mobile, mobile, mobile
If you aren't mobile already, you've dropped the ball. 89% of home buyers are using mobile web at the onset and throughout the search process.
You can use a mobile responsive website design which will reorganize your desktop website into a mobile format or you can use a dedicated mobile site that has the content and links outlined specifically for mobile engagement. Whatever you choose, it is imperative that your website is mobile.
6. Mapping and Directions
While 51% of new home shoppers on mobile are there for MLS search and property information, the 2nd most used feature for real estate is getting directions to a home.
Having integrated maps, turn by turn directions, maps with other nearby properties and even GPS or map searches will give you the tools your visitors want.
7. Look Good
Functionality is not enough to appeal to today's consumer. Your website also needs to be aesthetically appealing.
Spend a few extra dollars for high-quality banner graphics and professional photography and make sure that your web designer uses newer design techniques. You don't want a website that looks like it's from the 90's.
8. Load quickly
Page load speeds are now a factor in your SEO ranking. Google doesn't want to send traffic to websites that people don't stay on, and one of the fastest ways to lose a visitor is to make them wait too long when pages are loading.
Google found that 60% of consumers will only wait 2-3 seconds for a page to load. They will reload it 2 times if it doesn't work within that timeframe. And if they are unhappy with the speed, then they will find a competitor's website by searching again.
You can have navigation load on your site before all of the images and graphics to allow a visitor to continue navigating even if all content on the page hasn't completely loaded. This is the best practice to make sure you're not delaying a visitor from navigating even if the content hasn't fully loaded yet.
9. Follow your MLS and association rules and regulations for websites
It's your responsibility to make sure that your website and listing pages are compliant with MLS and association rules. While every board has slightly different requirements, it's your brokerage and your agents that will be affected if the MLS restricts your access to the MLS feed due to non-compliance.
If you have questions about the rules, contact your MLS or association. They would be happy to help you stay in compliance.
10. Make your website the central hub of your digital presence
Your website is the only place where you have unlimited room to promote your business – your team, listings, jobs, blog posts, market trends, etc. Make sure to use all of your online and offline marketing tools and link them back to the central hub of your marketing tool belt – YOUR WEBSITE!
Consider using an integrated marketing platform, which allows you to manage your branding, generate and manage leads and integrate your website, print, and email marketing all under one roof.
No broker got into real estate to manage websites or to be an accountant, which is why these services are usually managed by software or by a vendor. Make sure you do your due diligence in finding the right solution for your brokerage. It takes time to build the framework and content for a website you and your agents will be proud of, and one that will keep the attention of today's rapidly evolving consumer. This is an investment you can't afford not to make!