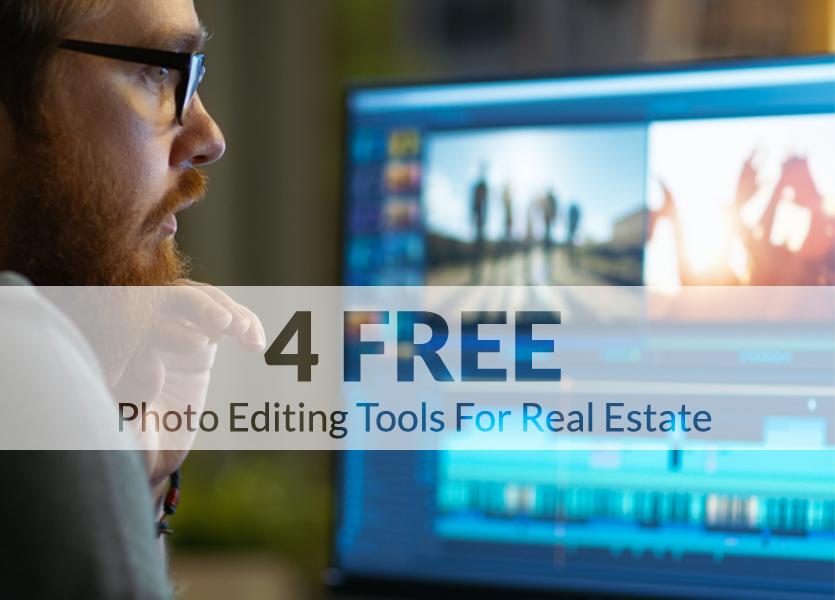 You are a real estate professional, not a photographer! But as a real estate pro, photos are a huge part of showcasing your brokerage as well as the homes your brokerage sells. With so many photo editing tools at your fingertips, you no longer have to stress about taking the perfect photo or purchasing high-end photography equipment.
Although photo editing software can be expensive, there are a few free tools that you can use. This week, I tested four of some of the most popular free photo editing software tools and here are my thoughts!
Photoshop Express
Photoshop Express is a free, basic version of Photoshop that is available with IOS, Windows mobile OS and Android OS.
The Pros: Photoshop Express gives you a very clean and simple interface. In Photoshop Express, it is easy to quickly toggle and compare between original and edited images. Overall, Photoshop Express is an effective tool for quick and simple edits.
The Cons: Photoshop Express requires you to sign up for a free Adobe ID account (however, this is relatively quick and easy). The app comes with few of the more advanced editing tools that you would expect from a photo editing program. Photoshop Express also does not give you a live preview and it is slower than other apps in rendering filters.
The Verdict: Although it may have the Photoshop name, don't let that lead you to believe you will have access to the robust tools Photoshop offers…Photoshop Express is a stripped-down version of Photoshop. This app provides the barebones of photo editing, no extra bells and whistles and very limited for creative users.
Pixlr
Offers both a mobile and desktop version – Pixlr Editor and Pixlr Express.
Pixlr Editor: Pixlr's full photoshop program.
The Pros: Pixlr Editor does not require signing up for an account in order to use their programs. Pixlr Editor's tools are very similar to the full Photoshop program toolbar. The site provides any editing option you could think of, including a cloning option and spot heal tool. It offers live preview of filters and actions so you can see the result before accepting. If you are familiar with photo editing tools, the app is fairly intuitive.
The Cons: If you are not familiar with photo editing tools, there can be a bit of a learning curve to use Pixlr.
Pixlr Express: Pixlr Express is available as a web app as well as an app for mobile devices. This is more simplified version than their full editor version and is meant for quick edits and uploads onto social sites. User interface is more similar to the Instagram app (one-click options that are quick and easy).
Pro: Like PixIr Editor, no sign up is required. PixIr Express is simple and quick to use. It has the ability to choose photos from your gallery or take them in-app with your camera. With PixIr Express, you can create a collage of multiple photos. PixIr Express also has a text overlay option with multiple free fonts.
Cons: Does not have a live preview that allows you to see your edits as you are making them, though the app does review edits prior to applying changes.
The Verdict: Both Pixlr Editor and Express are great tools that have their own purpose. Pixlr Editor provides a full photoshop program that offers many of the creative freedoms one would want from a photo editing software. Pixlr Express works well for uploads onto social media. PixIr's photo editing software is much more robust than Photoshop Express.
PicMonkey
PicMonkey interface is another program that resembles the Instagram interface, in that it provides quick and easy access to filters that can enhance your photos. PicMonkey offers both a free and premium version. (I tried out the free version!).
The Pros: PicMonkey allows you to choose 3 different image settings for faster editing. The program has a live preview. PicMonkey is simple to use. With PicMonkey you can choose between online vs. print quality. It also has multiple photo effects. PicMonkey offers text overlay with free font options as well as a drawing option with eraser and opacity levels and stickers.
The Cons: PicMonkey requires signing up for a free account in order to save your images.
The Verdict: The free version of PicMonkey gives you the tools you need to quickly and effectively edit your photos.
IPiccy
iPiccy is a free photo editor, collage maker and graphic designing tool.
Pros: iPiccy does not require an account to use their program. IPiccy has very advanced options like the clone tool for removing unwanted items in your photos and layer options that allow you to overlay another photo, text or shapes. Text overlay options include gradient fills, drop shadows, stroke option, level and backgrounds. iPiccy comes with paint tools, as well as frame, light filter and texture overlay options. iPiccy offers an abundance of free photo effect options and touch up tools that allow you to get creative. IPiccy also has different saving options, allowing you to save your pictures at different resolutions—regular, high and highest—in both JPG and PNG file formats.
Cons: This app is desktop only and is not available for mobile.
The Verdict: iPiccy is by far my favorite of the 4 apps reviewed, however the lack of a mobile version is greatly disappointing.
In conclusion, all 4 of these apps are great resources for any realtor wanting to put their best photos out there. Varying user experience levels will appreciate the varying complexity of the tools reviewed. As all tools can greatly improve the quality of your brokerage's photos for free, I recommend taking a moment to play around with them and seeing which one works best for you.