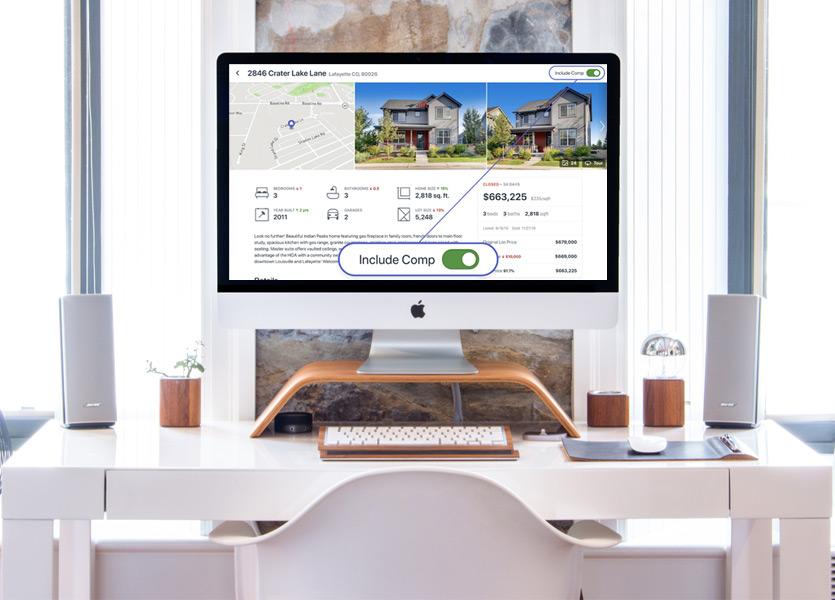 We're beyond excited to announce the acquisition of W+R Studios, the creators of the Cloud Agent Suite, featuring Cloud CMA, Cloud Streams, and more.
Together, we're creating an unprecedented tech suite for agents and brokers and bringing a new real estate experience to life.

READ THE FULL PRESS RELEASE HERE
W+R Studios, the award-winning creators of Cloud Agent Suite
W+R Studios has been in the real estate game for 10 years. Their award-winning Cloud Agent Suite, provided to over 500,000 licensed users across the country, includes:
Cloud CMA: a web-based tool to create comparative market analysis
Cloud Streams: an auto-prospecting collaboration system that sends listing alerts via email or text
Cloud MLX: a new way for agents to search their MLS system using natural language
Cloud Attract: a tool to attract buyers and sellers with lead-generating technology
These intelligent, automated solutions aim to help real estate agents be more efficient, win more business, inform buyers about new listings, and connect consumers with agents within the area.
We're thrilled to bring these solutions to more agents, brokerages, and MLSs and associations than ever before.
Cloud Agent Suite + Agent Cloud and Broker Cloud
We've got big plans for the Cloud Agent Suite.
In our first steps following the acquisition, we're going to add W+R Studios' suite of solutions, including its competitive market analysis tool, Cloud CMA, to our Agent and Broker Cloud suites of solutions.
Our goal is to put everything you need for real estate in a single place, your Lone Wolf solutions, so you can bolster your client experience without having to jump in and out of 15 different systems.
Keeping agents and brokers at the heart of the transaction
We believe agents, brokerages, and MLSs and associations are the cornerstone of the industry. But as the world changes and consumers evolve, it's more important than ever for agents and brokerages to upgrade the real estate experience they provide their buyers and sellers. Doing so helps them differentiate their service and reinforce their value in what has become an increasingly competitive industry.
That's why Lone Wolf and W+R Studios have joined forces. We want to keep agents, brokers, MLSs, and associations at the heart of the transaction.
Things like Cloud CMA are becoming essential tools. Like Lone Wolf Transactions, Cloud CMA is tightly wound with hundreds of MLSs across the country. The solution transforms widely available but notoriously non-digestible listing data into beautiful, customizable, and comprehensive listing presentations. For agents and brokerages looking to engage clients and demonstrate the enduring value of their guidance, insight, and customer service in the process of buying and selling a home, Cloud CMA is a gamechanger.
Together, Lone Wolf and W+R Studios are proud to stand beside you and provide you with all of the tech you need to engage, inform, and amaze your buyers and sellers. So you can set yourselves apart and remain the center of all real estate transactions in North America.
Come celebrate with us and level up your client experience today!
We're incredibly excited about acquiring W+R Studios, and we want you to be too.
Come celebrate with us and learn more about the Cloud Agent Suite in the links below. Whether you're an agent, broker, or MLS or association executive, the Cloud Agent Suite can help you level up the real estate experience for buyers and sellers.
Agents: sign up today and try the Cloud Agent Suite—for FREE—until February 2021!
Cloud CMA: beautiful reports that make a lasting impression.
Cloud Streams: lightning-fast auto-prospecting.
Cloud MLX: the easiest way to search the MLS.
Cloud Attract: lead-generating landing pages done for you.
Homebeat: a set it and forget it nurture tool
Cloud CMA Live: interactive listing reports for the virtual world
Brokers: get an exclusive look at the Cloud Agent Suite for Brokers here.
MLSs/associations: find out how you can help your members search MLS listings, auto-prospect, and create beautiful listing presentations and landing pages here.