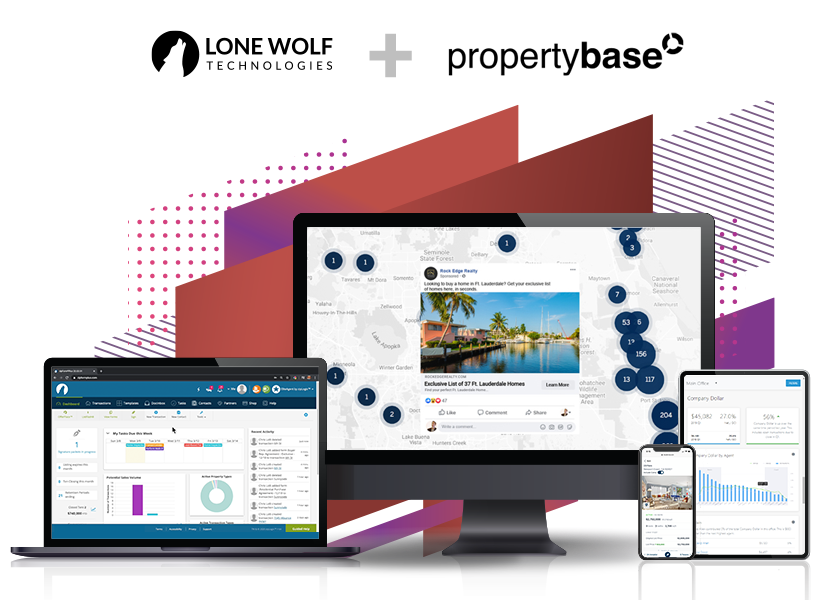 Real estate is changing—and fast.
All around the world, consumers clamor for a modern real estate experience. It's a virtual battle for the business of buyers and sellers, and agents and brokers are on the frontlines.
Lone Wolf's here to help you win.
We're thrilled to announce that we've just acquired the global leader of real estate websites, CRM, and lead generation software: Propertybase. Combined, our two companies are bringing agents and brokers the world's best tech to run their business and astound their buyers and sellers with a superior real estate experience.
With Propertybase on board, as well as recent additions Terradatum, HomeSpotter, LionDesk, and W+R Studios, the pieces are in place for Lone Wolf to build something really special for the real estate world.
Here's Jimmy Kelly, our CEO, on what that means for agents and brokers:
"Our customers want—and need—these essential solutions to work together, so they can run their entire business in one place. This acquisition brings our leading products together and puts our combined team in position to build the ultimate unified technology platform for the real estate world."
About Propertybase
Propertybase is the leading global provider of real estate websites, CRM, and lead generation software, serving over 4,500 businesses and 250,000 users in 80 countries.
The company's flagship solutions include:
Here's more on Propertybase and how we fit together.
The ultimate unified platform for real estate.
It's no secret—we've bought a lot of companies in the past year.
Far from a shopping spree, these acquisitions have all been for a specific purpose: To bring the best and most-used solutions in real estate together, so we can give agents and brokers all the critical components they need in an increasingly complex and competitive marketplace. 
Following these acquisitions, we now provide best-in-class solutions for:
Marketing
CRM
CMA 
Transaction management 
Brokerage operations 
Insights and analytics
Talent management
Ancillary tools and services 
The goal with these acquisitions hasn't been to squash the competition. We're not some scary corporate superpower with unknown motives. Lone Wolf is here today—as we've been for the past 32 years—to give real estate agents and brokers the tools they need to be successful.
Our goal with these acquisitions is simple: We want to connect the most critical processes in real estate and create a single, unified platform for agents and brokers. A platform that empowers agents and brokers in a digital era and provides their consumers with the modern real estate experience they expect—and one that can only come from a professional.  
Here's Chris Egan, our Chief Strategy Officer, on what this means for the future of real estate:
"Our goal is to bring the time-honored tenets of the real estate world into the present with a modern, innovative, and connected technology platform that makes it simpler for people—and the professionals who serve them—to buy and sell homes.
Serving over 1.5 million agents, 15,000 brokerages, over 900 MLSs and associations in North America, boasting nearly 650 employees with hundreds of cumulative years of experience, and offering the most trusted solutions in the industry involved in over 75% of all real estate transactions the US and Canada, Lone Wolf is the only company with the reach, size, and technology that can make this happen."
Because in the battle for buyers and sellers, Lone Wolf is on your side.
Stay tuned for more info from Lone Wolf. We'll be sharing more soon about our vision for real estate, and what's to come for our products, customers, and company.