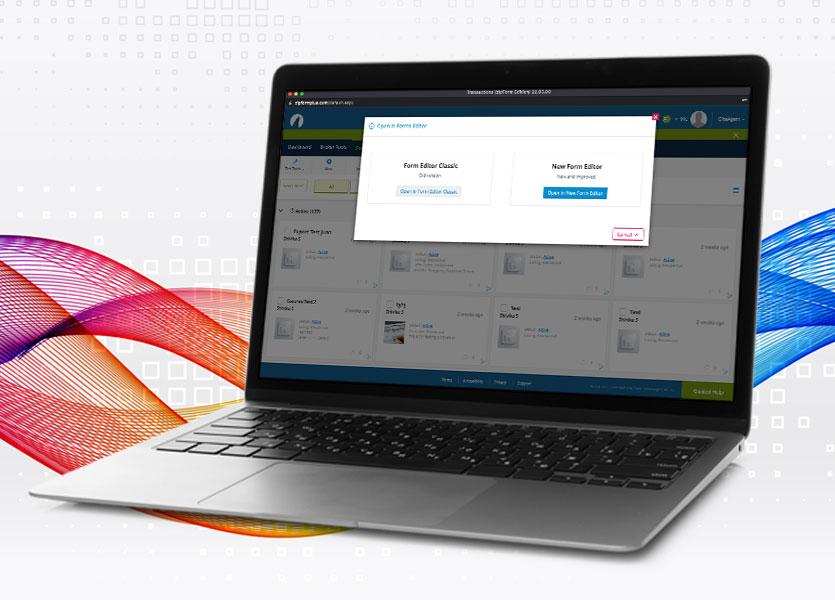 Our mission at Lone Wolf is to simplify the work that brokers and agents do every day, while arming them with simplified modern solutions to impress their clients, too. We are thrilled to announce we are continuing that mission with groundbreaking updates to your forms editor in Transactions (zipForm Edition).  
The new forms editor for Transactions (zipForm Edition) is now more modern, intuitive, and features intelligent automation for better data flow and error-free forms.   
The solution will be rolled out nationwide, market by market, starting today. 
Why did we update the forms editor?
Since the dawn of the industry, real estate transactions have revolved around paperwork. Tedious, slow-moving, repetitive, not-always-accurate paperwork. In a competitive market, brokers and agents rely on the speed of transactions to win listings, simplify workflow, and submit more offers in a flash.  
Forms have been the backbone of Transactions (zipForm Edition) since 2015, when it was initially provided as a national member benefit. When Lone Wolf acquired zipLogix in 2019, our team moved quickly to enhance the forms editor to give brokers and agents a one-stop-shop for managing entire transactions online from listing to close.  
Over the next 2-3 years, we continued to redesign the forms editor after grabbing feedback from agents and brokers to ensure the forms editor worked as flawlessly and stress-free as possible for every transaction, all while remaining legally compliant and licensed, with 99% forms coverage across North America. Now, over 65 million forms are filled out in a year using the forms editor in Transactions (zipForm Edition) … and the new updates could increase that number! 
So, what's new in the forms editor?
The new forms editor introduces several intelligent and intuitive features, giving agents and brokers everything they need to prepare and send forms faster than ever. With a new and improved workspace, you can auto-fill out forms, fill out multiple forms at once, mark up documents, add and personalize clauses, and quickly add signers and property information.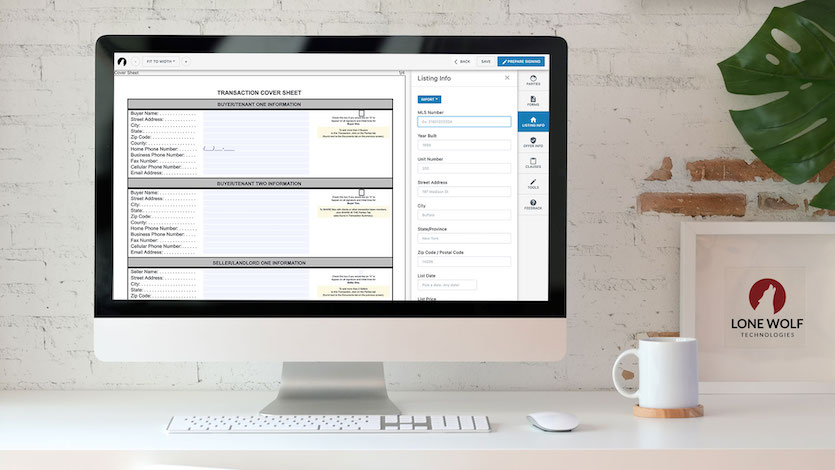 Modern, user-friendly interface  
Completely redesigned, the new interface makes it simpler than ever to find, view, fill, and share your documents. We added a user-friendly navigation bar and have split out forms tasks into specific tabs. 
Top navigation bar: Here you can zoom in/out or adjust width of your screen, edit the transaction name, and use the arrows to return to the paper portion or continue onto signing. Bonus: The new editor has enhanced resolution, too, so you don't have to zoom in to read the details in your docs!
Truly complete workspace 
Gone are the days of filling out forms one at a time. With the new workspace, you can fill out multiple forms simultaneously—and always see transaction info, contact details, offer info, and more—in the same place.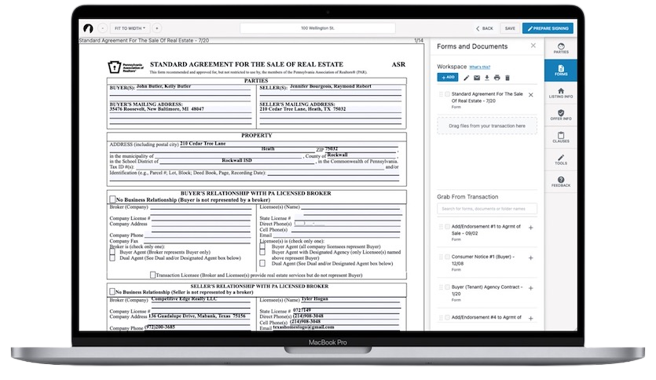 New tabs:  
Parties: All contacts related to your transactions and forms can be added, edited, deleted, or viewed.

Forms: Add forms from transactions/libraries, or upload other files to build out the signature package before signings begin.  

Listing/Offer Info: Import MLS listings, tax records, and verify the right listings details have pulled in from other forms. (The info in these sections will auto populate onto all other forms and vice-versa!) 

Clauses: With advanced rich text editor functionality for better content and clause variables with automation capabilities.

Tools: Add notes, highlight text, and more—plus set default markup settings for quicker markups for in the future. 

Leave feedback: Leave your feedback on the new platform so we can continually evolve the tool to meet your needs. 
More intuitive forms 
The new forms editor boasts a wide range of AI-powered time-saving features. Its intuitive technology fills out forms for you as it auto-populates info from your parties, listings, and offers forms. Its intelligent technology even makes suggestions based on past transactions! This all makes it possible to submit offers quickly on the fly without the pain of jumping back and forth between forms or documents.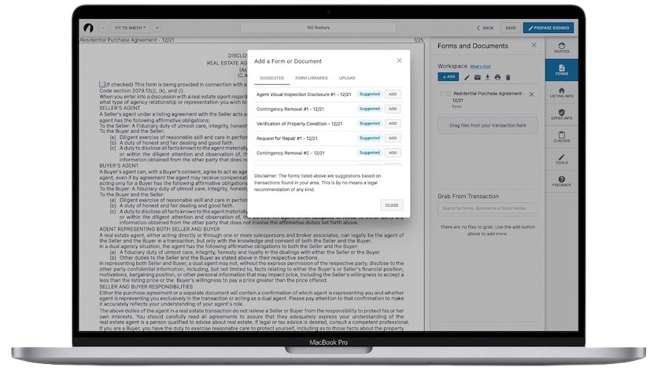 Clause tools 
Now when you add clauses on a form, you can quickly set dates, times and even drop-down selections enable you to quickly and accurately insert clauses into your form.  You can also automate clauses to be added when a new transaction is initiated.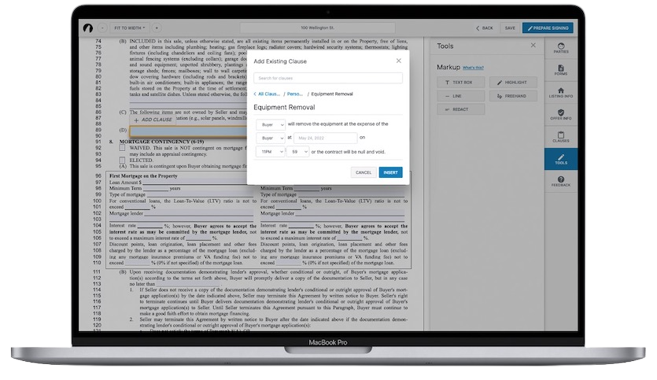 Markup tools 
You can mark up documents or forms when you need to indicate key info of the document or cross out unnecessary info to prepare it for e-signing. You can highlight important pieces with a highlighter, draw lines, add in custom text boxes, stamps, and more. These new markup tools also let you set default settings for quicker markups in the future! 
The new forms editor is fast, modern, and intuitive 
The new forms editor will yield significant time-savings throughout the entire transaction and each of the subsequent, vital steps in the buyer and seller journey. With its brand-new interface and a range of innovative, time-saving features, the new forms editor makes it simpler than ever for agents to get their deals started, signed, and delivered. 
Unrivaled form + function
The only forms editor boasting AI-powered technology/machine learning​

The only solution with over 80% of forms coverage in the US​

Natively connected to signing process through Authentisign
We are delighted to provide over 665,000 agents in the U.S. with real estate's most innovative, intelligent, and intuitive form capabilities!
Once it is available in your area, the new forms will automatically display in your Transactions account. Watch this video to see all the features in action!