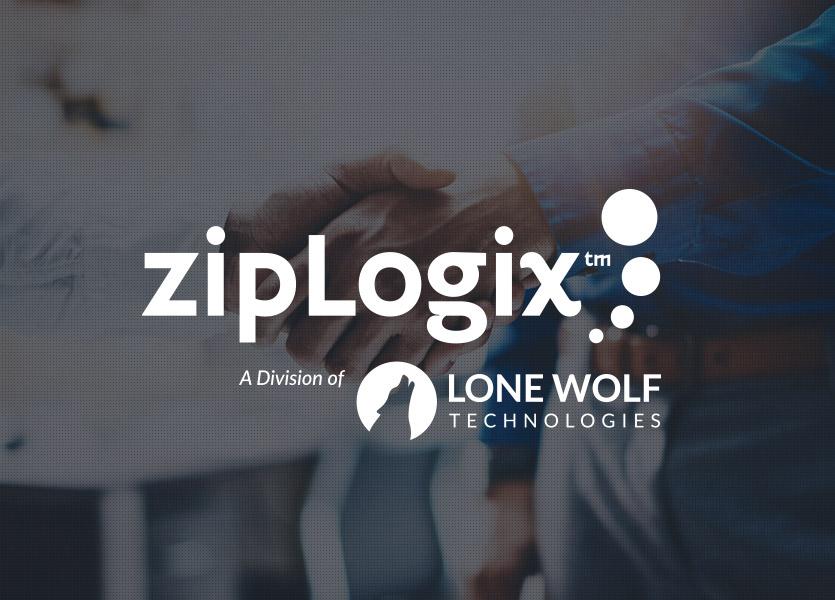 Read the Full Press Release Here ‍
Today, Lone Wolf announced its acquisition of zipLogix™.
This news comes on the heels of other major announcements from Lone Wolf, including the release of real estate's first two-way integration for transaction management and the back office, Link, as well as the launch of a nationwide transaction management platform for Canadian real estate professionals, CREA WEBForms.
Let's look at some of the details of the acquisition and what it means for the real estate industry.
A Big Deal for Real Estate Transaction Management
Today's acquisition heralds Lone Wolf as the leading transaction management provider in North America, as the company now offers the industry's top solutions for eSignature, digital forms, and transaction management with TransactionDesk and zipTMS®. Lone Wolf also offers real estate's number-one back office and accounting solution, brokerWOLF, which works in tandem with TransactionDesk to complete the transaction process by finalizing transactions, calculating commissions, and paying agents and outside parties.
But more than that, the acquisition sets out in no uncertain terms Lone Wolf's new vision under CEO, Jack Blaha: To build an unrivalled technology ecosystem and make transactions simpler for both real estate brokerages and professionals.
"This acquisition is important for the real estate industry and the customers we serve," said Jack Blaha, CEO of Lone Wolf. "With more solutions and integrations available, zipLogix's™ enormous network of brokerages and agents will soon have the opportunity to leverage an unparalleled end-to-end platform from lead to close. By combining our resources, we will be able to accelerate development on both platforms while providing greater choice and integration capabilities to the thousands of brokers and agents served through our MLS, Association, and brokerage clients."
zipLogix™ and Lone Wolf: The First Steps
"Lone Wolf shares a similar vision to simplify the real estate transaction experience," said Scott Strong, CEO of zipLogix™. "Together, we will make our client's experience even better by providing faster innovation and a more integrated ecosystem of solutions."
Lone Wolf will operate zipTMS® side-by-side with TransctionDesk, so that brokerages and agents have unlimited flexibility and functionality in their transaction management solutions. The company will also immediately begin plans to integrate zipTMS® with brokerWOLF, so that users of both systems can send transaction data from their transaction management system to their back office.
Beyond that, Lone Wolf will forge connections between zipTMS® and TransactionDesk, which encompass a wide range of MLS, CRM, and website integrations, and deepen the integration between zipTMS® and brokerWOLF.
Impact on the Real Estate Industry
There are always going to be shiny pennies in real estate. Tools that are geared toward agents that pop up out of nowhere and disappear just as fast. Tools that solve one specific problem, but create a wake of subsequent problems for the brokerage—including duplicate data entry, non-compliance, and high overhead—as a result.
Nowhere is this truer than the transaction management space, where there's a cluster of disconnected transaction tools causing problems for brokerages, agents, and home buyers and sellers.
The industry needs real estate technology that helps brokerages and agents manage their transactions. Technology that connects them and empowers them to be better at their jobs—not technology that disrupts them.
That's why Lone Wolf acquired zipLogix™.
Like Lone Wolf, zipLogix™ has decades of experience providing reliable and innovative technology for both brokerages and agents. The company and its products are renowned and deeply embedded in the real estate industry.
With zipLogix's™ products and Lone Wolf's products operating side-by-side, Lone Wolf can provide a full-powered ecosystem of digital tools for a vast majority of real estate brokerages and professionals in North America. This ecosystem will comprise a completely integrated suite of real estate-specific tools—everything from CRM integrations to digital forms to eSignature to back office management—that make transactions simpler and improve the industry's ability to service home buyers and sellers.
At the end of the day, that's what real estate is all about.