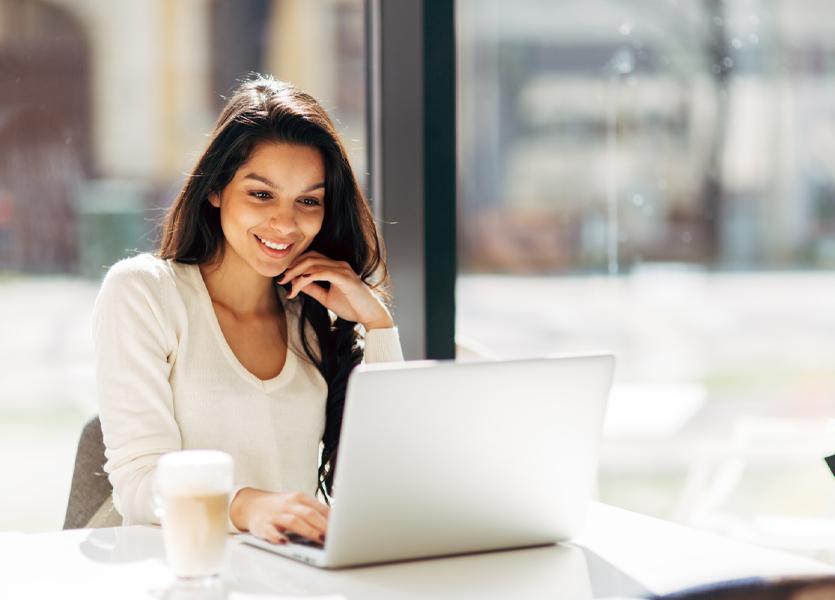 Your real estate license is in hand, congrats! Now what? As a new agent, starting your real estate business isn't exactly the most intuitive—or easy—adventure you'll embark on. But don't sweat it, millions of agents before you have done it and have succeeded! Here's a candid look at how to kick off your real estate business, stay ahead of the competition in this current market, and how you can even experience growth earlier than you think.
1. Choose the right brokerage
While this is still your real estate business, having a brokerage to support your first months as an agent is key to your success. Their expertise lies in helping you create a smart business plan that keeps your budget in check, and helps you have a good handle on expenses and projected revenues. What goes into choosing a brokerage? Here are some factors to take into consideration:
Branding + networking: Find a brokerage with a great reputation and brand recall. Their branding will complement yours, after all—so being associated with a reputable brokerage will only benefit you. A strong firm has likely been in the market for many years, so they have large networks you can tap into. While the brand helps to win business, tapping into their network can help you find, buy, and sell more homes, more easily.
Technology: We work with thousands of brokerages that provide their teams and agents with tech tools … free of charge! For example, the Broker Cloud is a suite of real estate's top broker software, including solutions for transactions, back office and accounting, digital marketing, CRM, and business insights—all focused on serving you and other agents—helping you to improve profitability and be a top performer.
Training: A well-established brokerage is undoubtedly full of experienced pros you can turn to for mentorship as you establish your own business. And remember the whole technology piece mentioned above? Brokerages also have their own tools in hand to help coach you, educate you with local market data, tools to help you price homes with confidence, and insights to help you strongly perform.
2. Ask yourself: What sets me apart from other agents? 
This isn't necessarily an easy question to answer, and it takes some thought. But chances are, since you sought your real estate license, you must have had some type of premonition that you have more than what it takes to succeed in real estate. Ask yourself important questions, such as:
    - Why are you getting into real estate?
    - Do you enjoy working with people?
    - What makes you different?
    - What motivates you? 
    - What are you trying to accomplish with your new business?
While there really isn't a tech solution that can help you answer these questions … arming your business with impressive tech tools that will help you succeed will surely keep you ahead of the competition and will boost your confidence. (More on that below.) No matter what, all these questions do need thoughtful answers, so you can tell your story of why you're in the real estate … which goes a long way when you start forming and nurturing client relationships! Plus, it is the sets the foundation of creating your own brand.

3. Bring in the leads … and turn them into clients
Now that you've established your business/brand and have a great brokerage to support you … let the leads rolls in, so you can close your first deal and earn your well-deserved commission. Where to start? Don't worry about going door-to-door (unless you want to get your steps in.) While you work on setting up your office and getting your business cards printed, in just a few clicks you can get your leads to roll in automatically. A few ways you can do that:
Launch automated digital ads on social: Get your name out in front of the largest demographic in North America today (who also love all things digital) these days: Millennials. 9.4 million millennials will celebrate their 28th, 29th, and 30th birthdays this year, which is also the prime home-buying age. Fill up your sales funnel by easily launching automated, smartly-targeted, agent promo and listing ads on sites like Facebook, Instagram, and other top sites like Nextdoor.
Build a website: Filling your pipeline with buyer and seller leads takes a little something extra in a competitive market. It helps when you have a strong website that stands out above the rest! With the updated Propertybase GO website builder, you can create a stunning, branded website in just minutes. And it is optimized to collect high-quality leads that are sent to your CRM for email marketing campaigns, or personal emails/phone calls.
Then nurture those leads: Automated CRM tools like LionDesk give you an easy way to reach out to new leads and convert them faster into clients. AI-lead follow up, a few taps to automate email and text campaigns, and other features help you foster all those new relationships and stay top of mind when the next listing is ready to hit.
4. Impress new clients from day one with simple, fast transactions
When you win your first listing, your first transaction process might seem a little bit daunting. Plus, you want to impress your new clients with a smooth experience, too. There are many steps involved in transactions, and the good news is that there are tools at your fingertips to keep every step of every transaction stress-free and efficient.
For this critical activity, there's no better tool than Transactions (zipForm Edition or TransactionDesk Edition), real estate's most comprehensive transaction management solution. This all-in-one transaction management solution connects to real estate's most-used tools, solutions, and services—including real estate's top electronics forms and forms editor, eSignature, document storage, and back-office integration in one convenient spot!
5. Connect your tech & always be ready for what's next
When you're always trying to reach the end of your to-do list, it can be hard to think about growing your new business. Lone Wolf is your one-stop-shop for all your real estate tech needs, with four amazing products to help you start out your real estate journey. With connections to Boost, LionDesk, and Propertybase Go, Transactions users like you have everything you need to grow your business, all in one system: As we noted above, these include tools that let you:
     ✓ Create targeted digital listing ads that post to top websites and social media
     ✓ Track ad campaigns and transactions at any time, any place
     ✓ Push contact info to forms and send for signing
     ✓ Order title insurance and home warranties
     ✓ Start a transaction right from a CRM contact
All of this in one connected experience, so you can give your clients the modern experience they deserve, from the second the listing hits the MLS until the day they move into their new home. And for you to grow your business from the ground up and continue to grow in years to come.
You've got this! And we've got your back. Book a demo with us to see these tech tools in action.