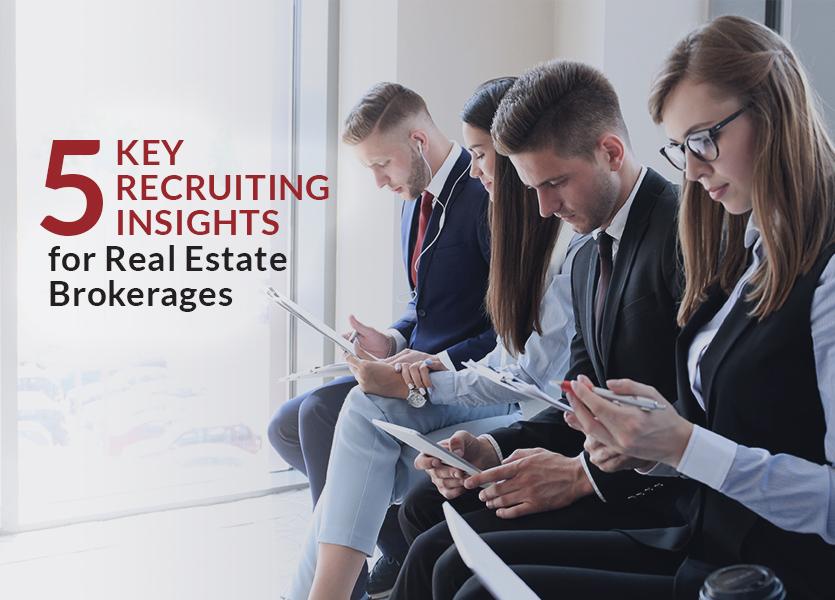 Not too long ago, Engel & Volkers released its State of Real Estate Recruiting Insight Report with a plethora of interesting information for Broker/Owners across the continent.
The goal of the report? To survey residential real estate agents to see just how satisfied they are with their brokerages, as well as what would make them move. So what did those agents say? Let's have a look at some of the key insights and what they mean for you.
96% of agents surveyed are satisfied with their current job.
That's a huge number to be completely satisfied with where they're at—the average rate of job satisfaction in the U.S. is around 50%.
So what does this mean for you?
Well, it means that only 4% of the agent population is dissatisfied and/or looking for a new job.
According to NAR, there are 1,334,668 Realtors in the U.S. (as of July 2018). Meaning only about 53,387 aren't happy with their jobs.
In the entire U.S. For the record, the town of Normal, Illinois (chosen for this example purely because of its name) has more residents than that.
So recruiting will take an active effort—those people aren't just going to walk through your door.
90% of agents would recommend their brokerage to another agent.
What does this mean? Well, it means that your agents could very well be your secret weapon in reaching that dissatisfied 4%.
Word-of-mouth recommendations go a long way in the real estate industry. Knowing what your agents' pain points are—and, well, addressing them as best you can—helps keep them happy, which translates into a higher likelihood they'll recommend.
You could also look into options like referral programs, which encourage those who are already happy but perhaps a little more quiet about their workplace to speak up.
72% of agents prefer their brokerage to have a physical office space.
Agents are by nature a mobile workforce. They're always on the go. Open houses, meetings, that one last signature. But for all that, they still like a brokerage with a physical office space.
What does this mean for you?
A few things here:
If you're looking to recruit agents, advertise your physical address. That way, the ones who absolutely want an office space will know you have it—and if they don't want it, no harm done!
If you're picking an office space, or considering whether your brokerage should move to a smaller space, it may be a good idea to ask your agents how many of them would prefer to have space for a desk. Sure, not everyone will want it—but some will, and it's worth keeping those agents happy.
This is especially true if you're in the luxury real estate biz; according to the report, a whopping 28% of luxury property agents will absolutely not work for a brokerage that doesn't have a physical office.
67% of agents don't receive 1-on-1 coaching or mentorship from their brokerage.
Coaching and mentorship are some of the best ways to make sure your agents are equipped for anything the industry can throw at them. Especially when those agents are fresh to the game.
But two thirds of the agents in the U.S. aren't getting it—and for many of them, this is a reason to change brokerages.
Here's the thing; running a mentorship program at your brokerage doesn't have to take up more of your time. If you find yourself too busy to meet with every agent one-on-one, consider a program that pairs up your more experienced agents with your green ones. That way, the former gets a chance to share their extensive knowledge—and the latter gets to benefit from it!
The #1 reason agents switch brokerages? Better commission splits.
It always comes down to money, doesn't it?
Well, not always. But in this case it does. According to the report from Engel & Volkers, the number-one reason agents choose to leave their brokerage is for a better commission split.
How do you combat this?
Generally, the reason Broker/Owners offer these splits to attract agents is because they don't have a better value proposition. It's a quick attraction: Sure, that agent might now get 90% of their sales—but they'll likely get fewer sales, and they'll miss out on things like brokerage-supplied marketing and technology tools.
Your best bet here is to educate agents about your brokerage's value proposition. When they know what they're getting that they might not get somewhere else, it becomes a lot easier to ignore the seemingly larger commission percentage.
When you know what motivates agents to move, and what they love about their brokerages, it becomes a lot easier to retain them! But how can you keep on top of recruiting them in the first place? Stay tuned next week to find out!