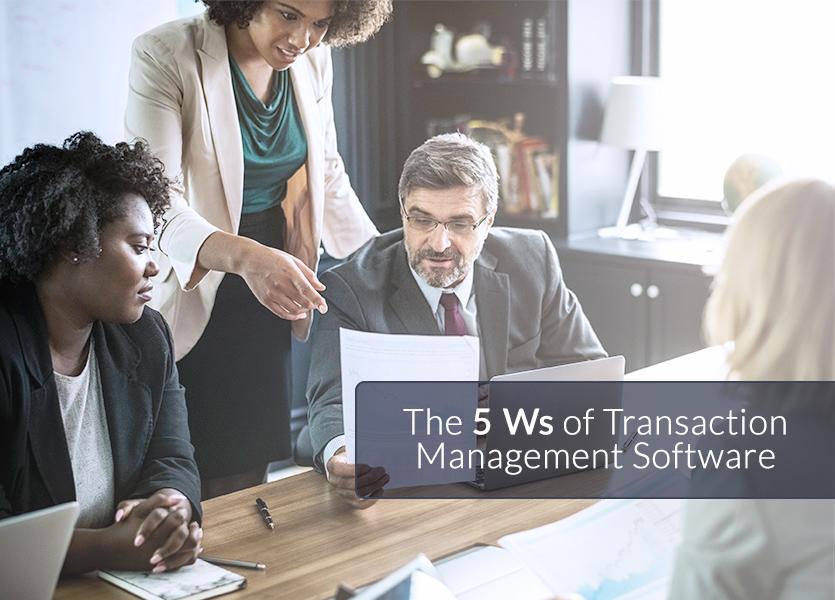 As a real estate professional, whether you're a Broker/Owner or agent, an administrator or office staff, there are tools you rely on to run your business. A website to create leads; a CRM to manage relationships; an accounting program to manage your back office.
But what about a tool to manage your transactions?
Why are we convinced that we need a website and a CRM to manage a real estate business, but in so many cases, the jury is still out on transaction management software?
Is it possible that the controversy around data—who it belongs to; who's keeping it safe; who's taking advantage—has made transaction management into somewhat of a dirty word? Or have we lost sight of what it truly is?
Let's have a look at the 5 Ws of transaction management software to get a better understanding of the value it brings to real estate professionals, and its importance in the real estate industry.
Author's note: To level-set, this is really the 4 Ws-and-an-H of transaction management software. But that wasn't as catchy.
1. Who
Let's start with the easy stuff. Real estate transaction management tools are for real estate professionals. There really isn't a rule of thumb about who should invest in transaction management software.
If you're selling real estate, managing a real estate brokerage, or working as an office administrator, it's for you. Simple as that.
2. What
Let me answer a question with another question. What is it not?
It's not a forms provider, paired with an electronic signature tool through some fancy APIs. Yes, these things help you complete a transaction. In fact, they're two of the most important components of transaction management software.
But on their own, they don't manage an entire transaction.
It isn't just a task manager, or a calendar, or even a CRM. Although the right tool will include all of them.
So now, what is it?
Transaction management software like TransactionDesk is designed to help you streamline your workflow and better manage your day-to-day.
It's a platform that knows the real estate industry as well as you do. And it doesn't just know the industry; it was made for it. It always knows your next step, and is prepared to handle it.
By now, you're most likely thinking about the overall process you already have. You're probably not looking forward to the idea of adding to that process another system to manage, another login to remember, and even more redundant data entry.
Who would?
But that isn't the case.
With a tool like TransactionDesk, you don't get a piecemeal solution. You get a single solution that manages an entire real estate transaction from contract to close. And you get one that can replace many of the pieces that brokerages today already use.
Which means one system, one login, and one data entry point—instead of several.
3. Why
Seventy-three years ago, The Atlantic published an essay from Dr. Vannevar Bush, expounding on the redundancies of paper processes, and envisioning a future in which everything was stored and catalogued electronically.
In a nutshell, he described a modern Windows file folder, and called paper processes outdated and inadequate.
That was in 1945.
So why are we still using those outdated paper processes?
Transaction management software replaces the traditional paper workflow with a more secure (and equally legally satisfying) digital workflow—one that works for everyone in a real estate brokerage.
Switching to a digital transaction management system addresses the rather unpopular tasks of paperwork and chasing people for information. It takes the hassle out of transactions by taking the piecemeal workflow that exists today, and creating a simplified, straightforward workflow that doesn't ask you to compromise. It manages itself, so you don't have to worry about it.
It reduces costs, increases efficiency, and optimizes your workflow by reducing paperwork and the amount of back-and-forth.
4. When
Let me just reiterate here for a second; single solutions for transaction management aren't the unicorns of the real estate tech world.
They exist, and they can be implemented across every function of a brokerage. Today.
5. How
How does transaction management software work?
When you put everything to do with a transaction into one organized space, rather than a handful of different spaces, you can say goodbye to clutter and confusion.
No more digging for that lost form like a misplaced shoe in the closet; no more late-night drives across town to get that last signature.
When you remove the twists and turns and occasional scavenger hunting with an organized transaction space, it gets a lot easier—and faster—for things to run smoothly. This way, nothing has to give; you don't have to make the ultimate decision between preserving your workflow and improving your efficiency.
You can keep your:
Forms
eSignatures
Documents
Integrations
Data licensing
All in one place. And when you can keep it all in one place, you can track it all in one place—which means automation in your workflow.
Transactions are the heart of a real estate professional's business. They deserve the same attention as your website and contacts, and transaction management software like TransactionDesk gives you the power to show them that attention.
Has your brokerage had the transaction management talk yet? We'd love to hear from you! Share your thoughts and experiences in the comments below.