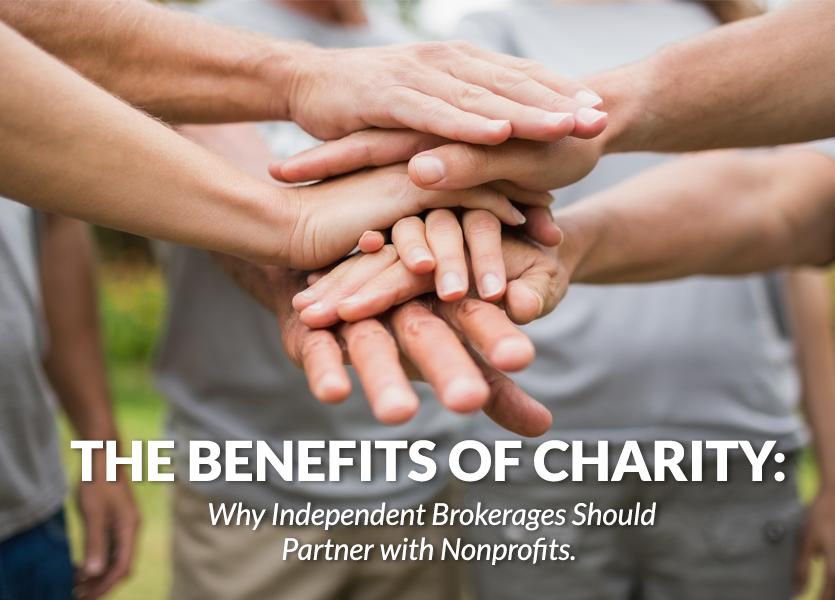 Charity Benefits the Giver as Much as the Recipient
And that's OK. When we give we experience joy, empowerment, purpose and can appreciate our own good fortune.
From a business perspective, donating time and/or money can give you brand exposure, help you connect to your community and give you tax deductions.
Why Independent Brokerages Have the Advantage
Franchises are often bound by agreements to larger charitable organizations that may not be relevant to their community. Conversely, independents make their own rules. Independents can partner with anyone they like, whenever they like. They can partner with niche or community nonprofits and have more influence in ways they can get involved. This flexibility allows independents to make a more meaningful (and visible!) impact in their communities.
How do You Choose Who to Partner With?
If you yourself don't have a passion for a certain cause, reach out to your family, agents and staff. Invariably, someone you know will have a cause that needs volunteers, resources or money.
That might mean you buy pylons for your kid's soccer association. Or it might mean raising money for medical supplies at the local shelter. Or it might mean donating your old guitars for the drop-in music program at the library.
Lone Wolf can Help You Make Your Charitable Donations
One little-known feature of our back office software is the ability to set up and automate charitable donations right off of your agent's checks.
It's a simple 5 step process to donate.

This process is a great time saver for admin staff, as the accounting and reporting are mostly done behind the scenes, and it also helps keep your data accurate and your books clean. (If you'd like more info about some of the other automated features in brokerWOLF, check out our 4 minute video demo here).
Whether you volunteer time, raise money or just lend a hand: Be charitable.
Winston Churchill once said:
"We make a living by what we get, But we make a life by what we give."