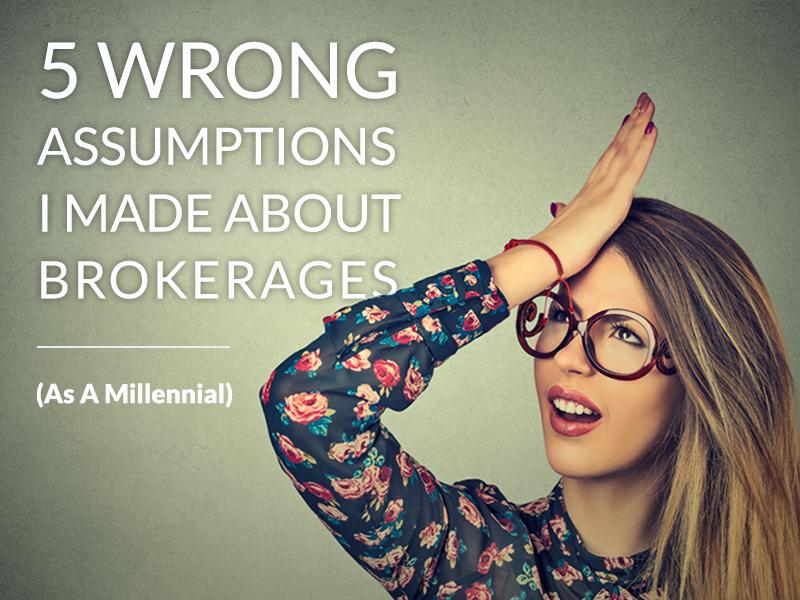 At the time I am writing this blog, I have only been working at Lone Wolf Technologies a little more than a month. So I am still quite new to the real estate industry. Today, I took a moment to reflect on what I have learned about the real estate industry so far. Here are some of the false assumptions I as a millennial had about brokerages—as well as some solutions that brokerages can implement to counter these common misconceptions.
1. I Don't Need a Brokerage
THE ASSUMPTION: Brokerages aren't necessary. As a millennial, I like do-it-yourself alternatives like kijiji.ca, self-learning podcasts and even brewing my own coffee. If I was to sell or buy a house in 2016, I would have also liked to do that myself.
THE REALITY: Brokerages aren't just middlemen. They are essential to the buying and selling of real estate. Brokerages assist with negotiations, stagings, showings and many other services that ensure both home buyers and sellers are satisfied with the buying or selling of their home.
THE SOLUTION: Brokerages can better inform the millennial demographic of their value through their agents—with marketing materials and good CRM tools.
2. Brokerages Are All the Same
THE ASSUMPTION: I thought all brokerages operated the same way, had the same principles and provided the same value.
THE REALITY: Going through a stack of different brokerages' business cards this past week, I realized that most are the same. However, just by reading their business cards, I saw many brokerages are unique and set themselves apart. One brokerage values relationships so much that they only work off of referrals. One broker highlighted how his annual volume is in the top 1% of all North America. Another brokerage showed they have deep understanding of their local market by highlighting they have been buying and selling houses in the community for over 40 years!
THE SOLUTION: Differentiating yourself in a saturated market can be difficult, but it is important in order to avoid being 'just another brokerage'. Establishing a strong brand is vital. You can do this through your website, through your interactions with clients, making your agents brand ambassadors and creating a unique and consistent message on your marketing materials. Need help with your marketing? Click here.
3. Each Agent Has His or Her Own Brokerage
THE ASSUMPTION: Every real estate agent works for themselves. Naïve, right? Maybe. But even as I try to recall the 'For Sale' signs I have seen since I was a child, the only thing I can recall are the big giant faces slapped beside the somewhat tiny words 'For Sale'.
THE REALITY: Agents frequently market themselves over their brokerage. In doing so, they unintentionally undercut the company's brand.
THE SOLUTION: Many brokerages can do more to make sure that agents aren't promoting their personal brand over the brand of the brokerage. Brokerages could greatly benefit from name recognition in their communities if they exerted more effort in aligning their agents' marketing activities to the brand of the brokerage. This is mutually beneficial for the brokerage and agent—as the brand of the company is inherently stronger than that of the agent. Want more branding tips? Click here!
4. Starting a Brokerage Is Simple
THE ASSUMPTION: Brokerages sell houses and make commission; how can things get any simpler than that?
THE REALITY: There's licensing, franchise fees, coordinating and managing multiple agents, complex accounting demands and so on.
THE SOLUTION: There are guides that can help you with starting your brokerage. Check out this free ebook on important considerations in starting your brokerage!
5. Brokerages are not Influenced by Technology
THE ASSUMPTION: Cardboard 'For Sale' signs, paper listings taped in bank lobbies around the world, and agent head shots from the 80's. I don't think I'm alone in this assumption.
THE REALITY: The notion that brokerages are not impacted by technology couldn't be farther from the truth. The real estate industry is constantly bombarded with new technologies: QR Codes, VR, mobile apps, social media, and a plethora of software programs. After working in over 5 industries this past decade, I can't think of an industry I've worked in that has been more affected by technology than real estate.
THE SOLUTION: Leveraging the right technology for your brokerage can be the difference between being your cities number one brokerage to going out of business. Don't know what kind of technology is impacting brokerages right now?
You may think my assumptions are ridiculous, but I can tell you I'm not alone. Many millennials have similar assumptions. Your brokerage can break these assumptions through a strong consistent brand, leveraging technology and communicating to us millennials how you provide services we need better than other brokerages. And remember, Lone Wolf has got your brokerage covered if you need help starting your brokerage or learning about what technologies your brokerage needs.