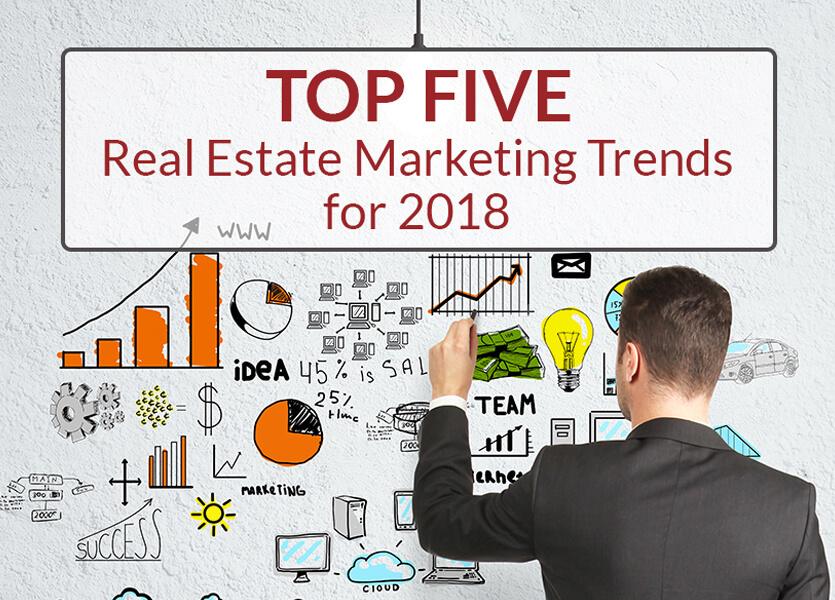 I think we can all agree the start of the year always feels like crunch time. Our lists of goals are long and spirits are high, but everyone is wondering what the next big thing will be. Here's a cheat sheet for the top five marketing trends to keep your eyes on in 2018:
Chatbots

A lot of companies are starting to leverage Artificial Intelligence (AI) in the form of chatbots. These tools allow you to engage potential and existing customers even if you're not available. Chatbots are able to understand and respond on-demand to your website leads with listing information, qualification questions, or even calendar invites for showings or listing appointments. Chatbots are a natural extension of the self-serve philosophy – similar to grocery store self-checkout – where consumers want to gather as much information on their own before they speak with someone. When questions get too difficult for the AI to understand, some companies, like Structurely, have humans available to step in and help with responses to the website lead. Not only can this technology help you engage and qualify leads faster, but it also collects lead information and data that you can use in your follow-ups.

Voice technology

As tools like Amazon Echo, Microsoft Cortana, and Google Home flood into homes all across North America, voice has become a new way of engaging today's homebuyers and sellers. Companies like Voiceter Pro, an Inman 2017 Innovator Award finalist, have built out the "skills" for consumers to ask these devices how much their homes are worth, find a Realtor or a local service and repair professional, and they can help people get connected with a brokerage if they're interested in real estate careers. Voice makes it easy for a consumer to engage, and with limited companies providing these services, I have a feeling it could be the next gold rush. Companies like Voiceter Pro are already helping generate high quality buyer and seller leads for brokerages and agents, alike.

Video and Live Streaming

According to a joint study by the National Association of Realtors and Google, YouTube is the top video research destination for home shoppers. Video has become a staple in the real estate tool belt leading to the next generation of video engagement – Live Streaming. Real estate brands are using tools like Facebook Live to share a live video broadcast of new listings, local events, first –time buyer seminars, restaurant reviews, or just their interests and personality. The raw footage gives buyers and sellers an organic look into what it would be like to work with these professionals, leading to much stronger leads coming from this medium when used effectively. This marks a shift to relationship building from straight lead generation. It should also be noted that drone video was a big hit in 2017 and will likely continue to be in 2018.

VR and Virtual Design

A recent online Harris Poll released by Coldwell Banker points to Virtual Reality being the next big thing in real estate. Many companies have already adopted virtual tours, giving homebuyers 360-degree digital walkthroughs of their listings. Companies like Matterport and Planitar's iGUIDE have streamlined the process of creating virtual tours with 360-degree camera hardware and/or local photographers readily available. The natural extension of virtual tours is virtual design and staging. In fact, 68% of survey respondents agreed that would like to see how their current furniture would look in a prospective home. Conveniently, just last month roOomy and Matterport announced a collaboration to develop virtual staging within Matterport 3D spaces. Not only do consumers want to see what their potential home looks like today, they want to know what it could look like the day they move in.

Leveraging Big Data with Artificial Intelligence:

Brokerages are beginning to leverage their large data sets with Artificial Intelligence (AI) tools. While AI is still in its infancy, there has been a large influx of startup and venture funding for companies focused on analyzing big data and providing actionable intel for broker/owners and decision makers. In the near future, AI will be able to match buyers and properties based on location, personality, interests, income and many other traits. It will be able to predict the likelihood of someone selling their home in the near future. It will be able to generate more accurate Automated Valuation Models (AVMs) to help price properties as they come on the market. Zillow has been doing this for years with their Zestimates. Just imagine what another year of R&D combined with additional investment in AI will do for the industry!
The advancement in marketing technology or mar-tech will change the way real estate brands engage today's consumer. Not only will technology provide more precision in lead targeting, but automation will also generate time savings allowing real estate professionals to focus on the relationships through which successful transactions are based. That sounds like a win-win to me!
---
In Warren's Corner I share my thoughts on new real estate technologies, events, industry and market trends, and everything in between. I invite my readers to reach out to me with feedback, questions and ideas for future posts! The views and opinions expressed in this article are my own and do not necessarily reflect those of Lone Wolf.