5 Keys to a Worry-Free Vacation!
July 4, 2017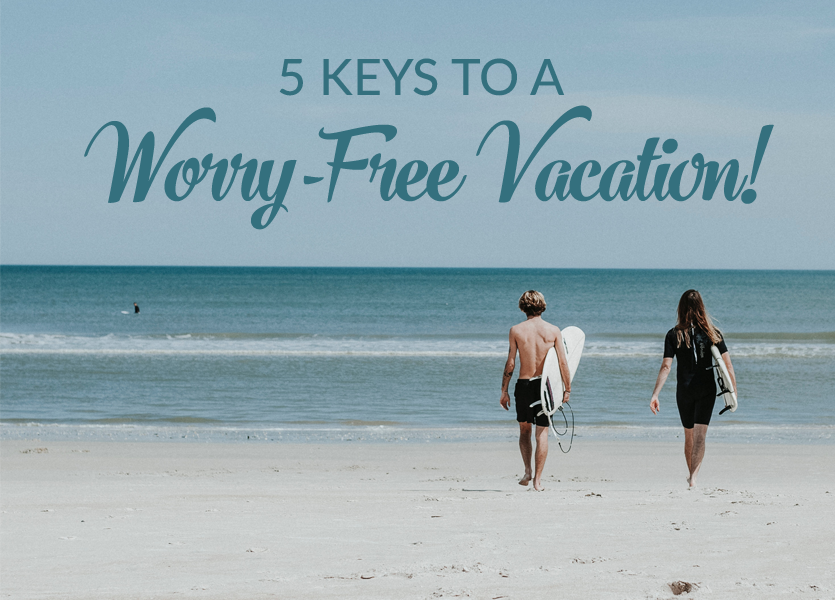 I am the child of a small business owner. It was hard for my father to close his business, but taking a vacation together as a family was important for him. You could always tell when it was getting close to vacation time; Dad was stressed out!
So how can you take a worry free vacation? Here's what I've learned from my Dad:
1. Plan your vacation and keep to your plan!
Decide when you are going to take the time off and book it. Let your team and your clients know when your vacation is going to be and be prepared by adding on an additional day before your vacation. Telling your clients and your team you will be away starting on Thursday will give you time to address those 'one last thing before you go' issues that tend to pop up before vacation.
Don't know when to go? Check our blog on 'The Seasons of Real Estate' to help you decide when the best time to take a vacation might be.
2. Trust the team you've built
Delegation is hard for business owners but you need to trust the team you've built. If you have a 'right hand' person, ask them to manage the company while you are away. Train your team members on the day-to-day workings of the office and introduce them to your clients so that they know who to call in your absence.
This is also a great time to take the procedures out of your head and get them down on paper. Run through some scenarios that could come up while you are away (like the internet going down or your website crashing), and make an action plan for your team to follow in response to these situations. Who do they call for plumbing concerns? Where's the electrical panel? How will issues be escalated and at what point does your team call you during your vacation?
3. Take advantage of current technology
If you are worried about leaving it all behind, today's technology allows you to stay connected and informed! Stay in touch with your agents and the day-to-day activities of your brokerage via WOLFconnect. Web based products make it easy to check in on projects and check your emails. Use globalWOLF to remotely manage leads and email clients. Set a limit to work time so you can keep in touch with your business but still enjoy your vacation.
4. Perfect time to let your brain wander
Remember all those things you did 'before' you were a successful business owner? Before all the daily tasks and meetings? Vacation is the perfect time to bring them forward. That may be reading the newest Stephen King novel or checking out the newest technology blog that you have been promising yourself you will 'get to'. Giving your mind a break from your daily activities and responsibilities allows it to wander, which can help you focus and expand your creativity.
5. Enjoy your Vacation!
This is the most important point. Remember why you are away in the first place: to recharge and refocus! Everyone—including you, your clients and your business—will be better for it. Enjoy your vacation! Because, if you're like my Dad, your vacation only comes around once a year!